Carmel By-The-Sea-Homes and Real Estate
Carmel architecture ranges from the 1920's doll-house designs of Hugh Comstock to a house designed by world-renown architect Frank Lloyd Wright. This was the only house he ever designed so close to saltwater. Designed in 1951, the house was featured in the 1959 movie, "A Summer Place". Built for $125,000, with an addition designed by Wright after the Walkers moved in, the house was one of Wright's favorites. It is distinguished by its stone terrace that juts out into Carmel Bay, the large stone chimney/fireplace and the blue metal-cantilevered roof. The house is the only building on the ocean side of the road in Carmel. Talk about a Carmel ocean view home!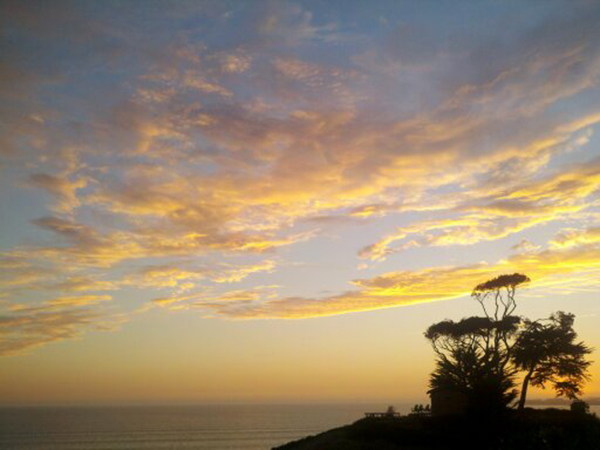 The whimsical designs of Carmel homes are as varied as the 4400 people who are lucky enough to call Carmel-by-the-Sea home. There are fabulous beachfront homes, redwood cottages that harkens back to Carmel's bohemian past, and mansions with stone facades, glass walls and every modern convenience. Carmel luxury homes retain their charm and have some of the nicest features. It is a true pleasure to enjoy the charm of a village where electric doorbells and artificial flowers are against the law. Carmel does not have street signs or numbered addresses and many of the Carmel homes have whimsical names such as "Tinkerbelle's Cottage" or "The Tree House," or "Sea Urchin." It is considered bad luck to change the name of a Carmel home.
Carmel's home to some fine actors like Clint Eastwood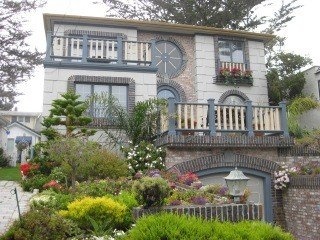 Many of the older Carmel homes are considered historical and the city government, which zealously guards Carmel's heritage enforces restrictions on remodeling. In fact, that is the reason that Carmel's most famous resident, actor Clint Eastwood, became mayor. Eastwood wanted to construct a small building in downtown Carmel in 1986. His efforts were blocked by the town's bureaucratic government and he decided to do something about it. He ran for mayor, winning with 72% of the vote.
During his two-year tenure, he successfully made it easier to build or remodel Carmel homes, got a tourist parking lot built, rescued the historic Mission Ranch from developers and opened a children's annex to the city library. He still owns the Mission Ranch, a former dairy farm which he saved from becoming a housing development when he purchased it. Besides a charming lodging complex, there's also a restaurant at Mission Ranch. It's a comfortable laid back place and the food is great. A brick-paved patio faces a pasture full of sheep and beyond that, you can see waves crashing on the rocks at Point Lobos. Sunday brunch on a sunny day is incomparable. You'll find a piano bar nightly and a live jazz ensemble on Sundays.
Eastwood probably likes Carmel for the same reasons the rest of us do: the sandy beach with crashing waves, the sea otters frolicking in the waves at Point Lobos, the lush, private gardens that surround with every Carmel home, incomparable ocean views that reveal themselves around every corner and a relaxed, laid back feeling. Don't you wish you could be one of the lucky people to own a Carmel home? You can start by searching for the Carmel real estate that fits your needs.
Are you looking to sell your home in Carmel? See our sellers' guide to learn how a licensed Carmel REALTOR® can make all the difference. Contact Gregg to see homes in the Carmel By the Sea real estate market at 831-818-7524.