Big Sur Homes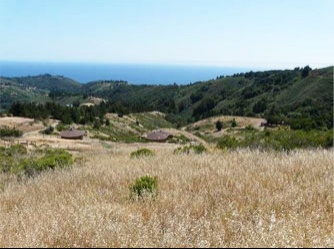 Along Big Sur there are no urban areas, only three small clusters of gas stations, restaurants, and motels. Much of the land along the Big Sur coast is privately owned, or has been donated to the state park system. There is not much Big Sur land available for development due to the mountainous terrain and environmentally conscious residents. This has kept Big Sur almost unspoiled.
Big Sur remains sparsely populated, with only about 1000 inhabitants, according to the U.S. Census of 2002. The owners of some of these Big Sur homes today are descendants of the original settler and rancher families, artist-types and wealthy Big Sur home owners from the worlds of entertainment and finance.
The name "Big Sur" is derived from the original Spanish-language "el sur grande", meaning "the big south", and Big Sur was first settled by the Spanish in the 1830s. Its population grew due to the Gold Rush, but it was the completion of the coastal highway linking Northern and Southern California in 1937 that marked the biggest change. Almost overnight, the still pristine coast had become accessible by car.
Big Sur Ocean View Property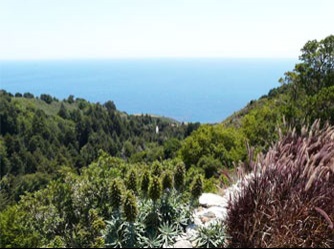 Big Sur has provided inspiration to photographers, painters, writers and musicians. Big Sur is known for its breathtaking ocean view property. One can't help but be amazed at the beauty of the ocean view. Property here is often out of site, yet still has fabulous views.
Henry Miller and Jack Kerouac wrote about Big Sur, and photographers Ansel Adams and Edward Weston captured Big Sur's rugged beauty on film. To this day, the Big Sur area attracts a variety of people who build various types of homes. Areas where one can build are limited to preserve nature and keep the stunning view intact.
Big Sur Real Estate
Big Sur is the place of dreams—a state of mind as much as a place. Only the lucky few can own Big Sur real estate. Land for sale is rare and costs of Big Sur real estate are as impressive as the views. Gorgeous, tasteful houses continue to be built in prime spots along Big Sur, usually out of sight of the road. One famous resident is media king Ted Turner, who purchased a cliff-hanging house. Big Sur has strict building laws and high standards regarding nature preservation. The purpose is to keep new construction invisible from Highway 1.
One good way to first visit Big Sur is to stay a few days at the Post Ranch Inn, a luxury resort perched on 98 acres of seaside ridges, 1,200 feet above the Pacific. Its restaurant has floor-to-ceiling views of the ocean and offers you an opportunity to dine at one of the most beautiful hotel settings in the world. It might just give you the urge to buy a Big Sur home for yourself.
While the stay is draped in luxury and natural beauty, you can pamper yourself there until you make your mark in Big Sur luxury real estate. For some, buying a Big Sur real estate is an aesthetic investment in the soul.
As Henry Miller wrote, Big Sur is the place where he learned to say "Amen" every day.