Carmel-By-The-Sea is Consistently Named a Best Place to Retire
Posted by Gregg Camp on Thursday, December 8, 2022 at 1:43:19 PM
By Gregg Camp / December 8, 2022
Comment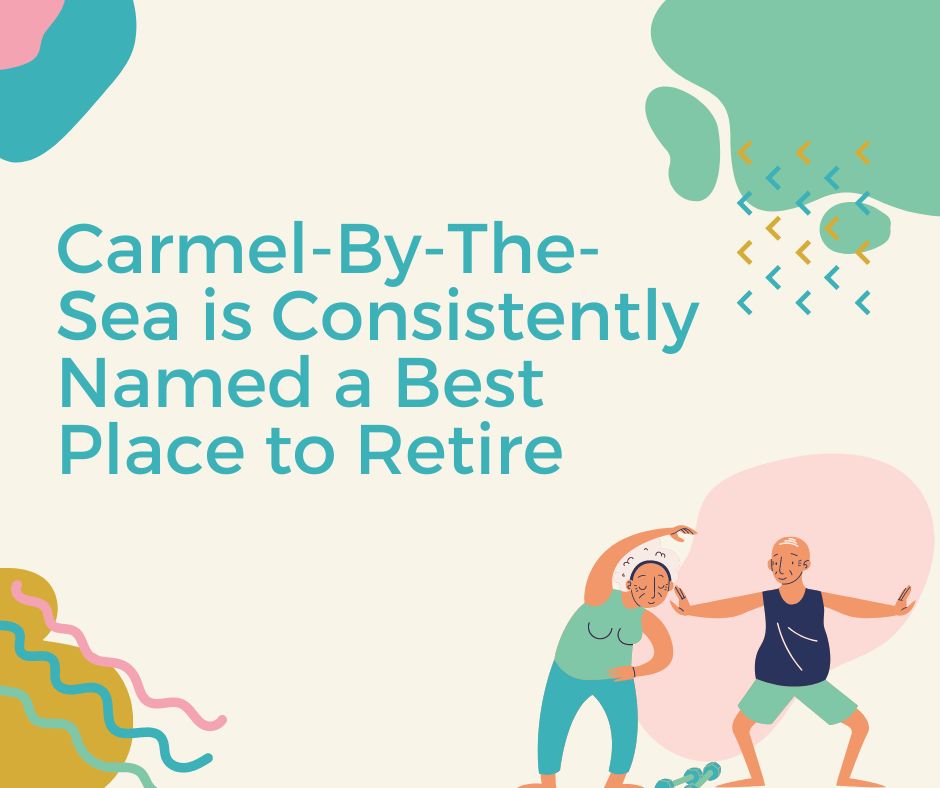 Carmel California or Carmel-by-the-Sea as it is also known is one of California's most picturesque coastal towns. It is often on many best-of lists and one of the most frequent best-of lists that Carmel can be found is California's Best Places to Retire.
Here are some of the best places to retire lists that Carmel has recently made
California.com"s The Best Coastal Towns in California to Retire
Caramel topped the category for quaint coastal retirement towns in california.com's article. The website notes that Carmel by the sea has an effortless elegance. It also shares Carmel's amazing white sand beaches and great local shops and dining opportunities with the most amazing views from pretty much any point in the town. And the majority of Carmel's residents are age 55+. They name it a can't-miss central coast beach town in California.
Stacker.com Best Places to Retire in California
Stecker.com ranks Carmel-by-the-Sea at number 19 out of 25 for the best places to retire in the entire state of California. They share some statistics about Carmel by the sea along with how they arrived at their data to compile what they believe is their best places to retire in California list. They noted that the most popular places on their list tend to have great walkability or proximity to healthcare sources and businesses of interest for entertainment and activities.
Niche.com 2022 Best Places to Retire in California
Carmel by the sea made number 27 on niche.com's best places to retire in California list. niche.com has been well known as a nationwide website that collects data and factors of locations around the country and analyzes them and puts several into many varying different best of lists. Niche.com collects its data from several different places including the US census, the FBI, the CDC, and many other data sources. Read specific details about the niche grades and how niche calculates their rankings by clicking on the links at the bottom of their list page.
Carmel by the sea receives an A rating from niche.com for its good for retirees grade. Many reviewers that live there or near the area note its beauty and many great local businesses that give it an overall great environment and amazing community for retirees.
The Nine Best Cities to Retire to in the US
Carmel not only made one best city to retire list on california.com it made two. It is also on the nine best cities to retire to in the United States. Not only is it a favorite retirement spot in California it is also nationally recognized as an amazing spot to live a happy retirement. Carmel comes in as fourth on this list. In this list, the website notes that Carmel is well populated with residents age 55 and over so it is clearly appealing to those of retirement age. They also note that it is considered California's crown jewel for those that can afford the cost of living.
Communityliteracy.org List of Best Small Towns to Live in California
This may not be a list about retirement but community literacy.org is a website dedicated to giving people more insight into aspects of a community. They are specifically geared around University communities but have answered several questions about the best places for retirement and other aspects of small-town California. They list Caramel by the sea as number four on a list of the eight best small towns to live in California.
There are many reasons to love Carmel-by-the-Sea and it is certainly well-loved by those in their retirement years. The best way to find the perfect retirement community for you is to work with a real estate agent that specializes in retirement real estate. Did you know that Greg is an SRES realtor? This is a realtor's special designation. SRES stands for senior real estate specialist awarded to realtors with special training through the Senior Advantage Real Estate Council.
If you are interested in finding retirement real estate in Carmel and surrounding areas please contact us anytime.