Considering All of the Aspects of Purchasing a Home in a 55+ Living Community in the Santa Cruz Area
Posted by Gregg Camp on Wednesday, January 11, 2023 at 2:06:17 PM
By Gregg Camp / January 11, 2023
Comment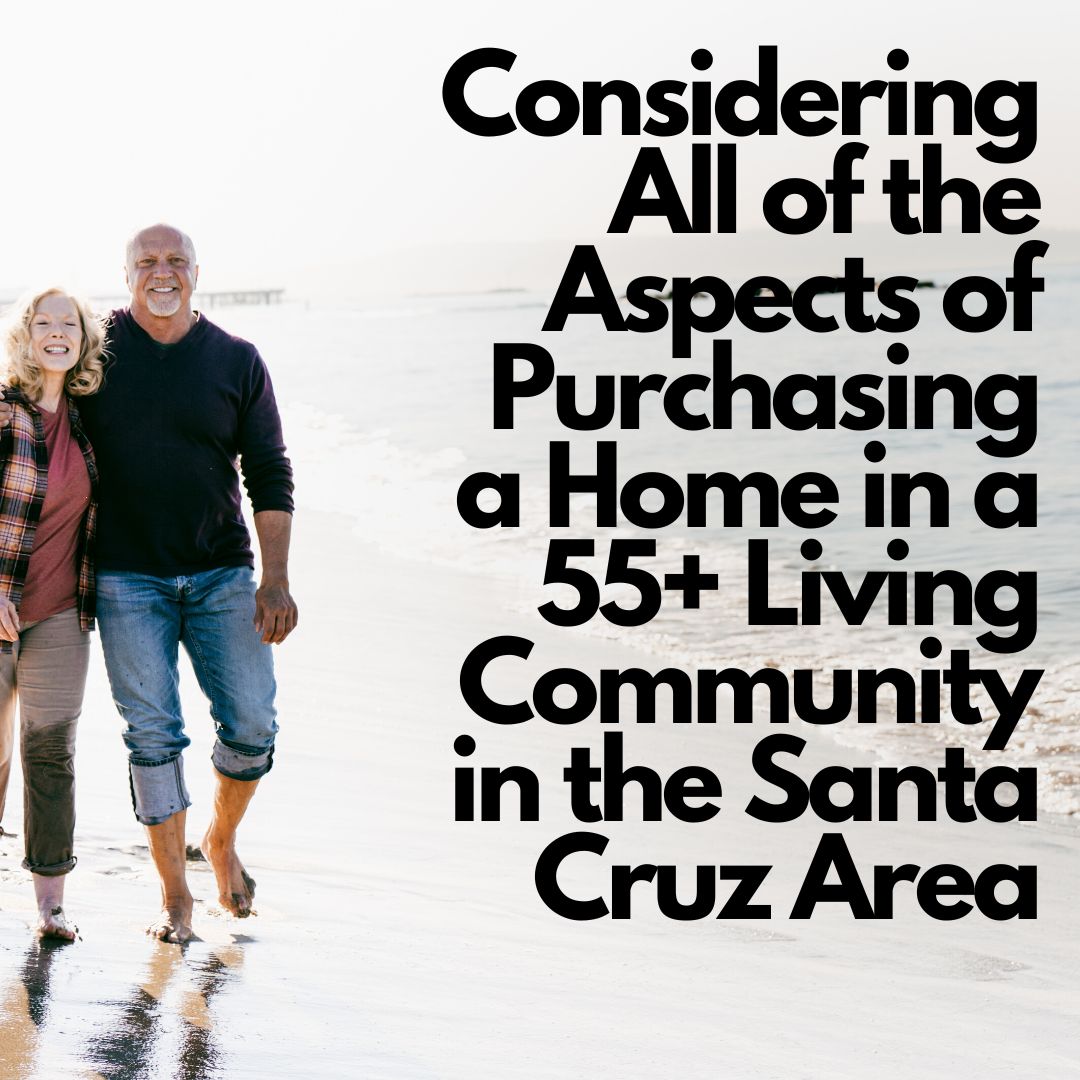 In the greater Santa Cruz area there are many different 55+ living communities especially in the Caramel by the Sea area. 55+ active retirement communities often advertise their living culture as a dream of being within a community that offers plenty of exciting activities to enjoy with people in the same stage of life. But what is a 55+ community? Should you purchase property in one?
A description of the average 55+ living community
Many times these types of housing communities that focus on adults aged 55 and above may have descriptive phrases included like independent living or active senior living. You may have heard many different names for 55+ communities as well as a long list of attractions offered to residents within the community.
Though they are sometimes mixed up with similar living situations like assisted living they are not medically focused facilities. These communities offer a focus on a specific type of homeowner that is at the age of 55 or above wanting to purchase a home within a community that offers the ability to have community with other people living in the neighborhood and enjoy some planned activities and community amenities with their neighbors.
If you are an adult at the age of 55 or older and are still active in your lifestyle needing little to no assistance with your daily activities this type of residential community can sound very promising and intriguing. Is it a good investment to purchase a home within one of these communities? For some people, it is well worth all of the added opportunity for social interaction and daily activity with the use of community amenities.
Aspects to consider when looking into a 55+ living community
The first thing to look into of course is the type of homes available to buyers and then the amenities and type of activities offered. In addition to this, you also want to make sure that you are looking into the homeowners association rules that come with living in this type of community to ensure they will not interfere with current aspects of your daily lifestyle and routine you love. Sometimes these communities can exclude the ability to host children under 18 or have pets in the home.
The guidelines that have been set by the United States Department of Housing and Urban Development state that communities advertised as adult living communities for those 55 and older need to reserve a minimum of 80% of the homes or units for people of this age. This does mean you will be limited in your daily interactions with other people of different age groups and it is something to consider if you treasure interactions with people of all different age levels.
Make sure you are aware of the total amount of dues and fees
Because 55+ living communities offer a wide variety of on-site community amenities as well as the opportunity for clubs and social events these neighborhoods come with homeowners associations and these associations impose fees to homeowners to cover the costs for these items. In some of these communities, these fees can be very affordable if you were to compare them to the average cost of going and doing the activities you are interested in on your own and paying separate fees for each one.
In some communities, the association fees may come at a very affordable price, and in others, the fees may be more than your housing payment itself. Often the communities with the most resort-like amenities will have the highest cost in association fees and dues. It is good to look into all of the fine details of what you will be responsible to pay in fees and dues. Sometimes homeowners will buy into a community and pay attention to the monthly dues without realizing there are sometimes large yearly costs as well.
Additionally, you want to make sure that you know the details of what your association fees will cover within the community. Will it pay for landscaping and maintenance on the exterior of your property? Are personal home items included such as utilities, trash pick up, and cable? Does it cover the maintenance of pools and all of the uses of the clubs? Sometimes association dues will cover a small portion of all of the amenities they advertise and offer and being able to utilize everything will come with an extra additional cost. This can be especially true of communities with a country club-style atmosphere or a golf course.
Considering the resale
At some point, the home will need to be sold or passed on to an inheritor. Several of these retirement communities have deed restrictions that describe who is able to live within the property and the circumstances in which they are able to inherit or live on the property. This may become complicated when you decide you would like to sell the home or pass it on to an inheriting member of your family.
Sometimes selling a home within a 55+ community can come with some hoops to jump through and it is good to know these things before purchasing a home within one of these communities. Often when purchasing a home no one is thinking about the circumstances in which they will sell it but within this type of community, it is a good thing to consider. Make sure to pay special attention to the homeowner association rules for selling homes. In some communities, you will need to have the oversight and approval of association board members when selling to a new buyer.
For more information on finding retirement housing in Santa Cruz County please contact us anytime.