Do You Actually NEED to Have 20% for a Downpayment on a Santa Cruz Home?
Posted by Gregg Camp on Friday, February 10, 2023 at 2:21:53 PM
By Gregg Camp / February 10, 2023
Comment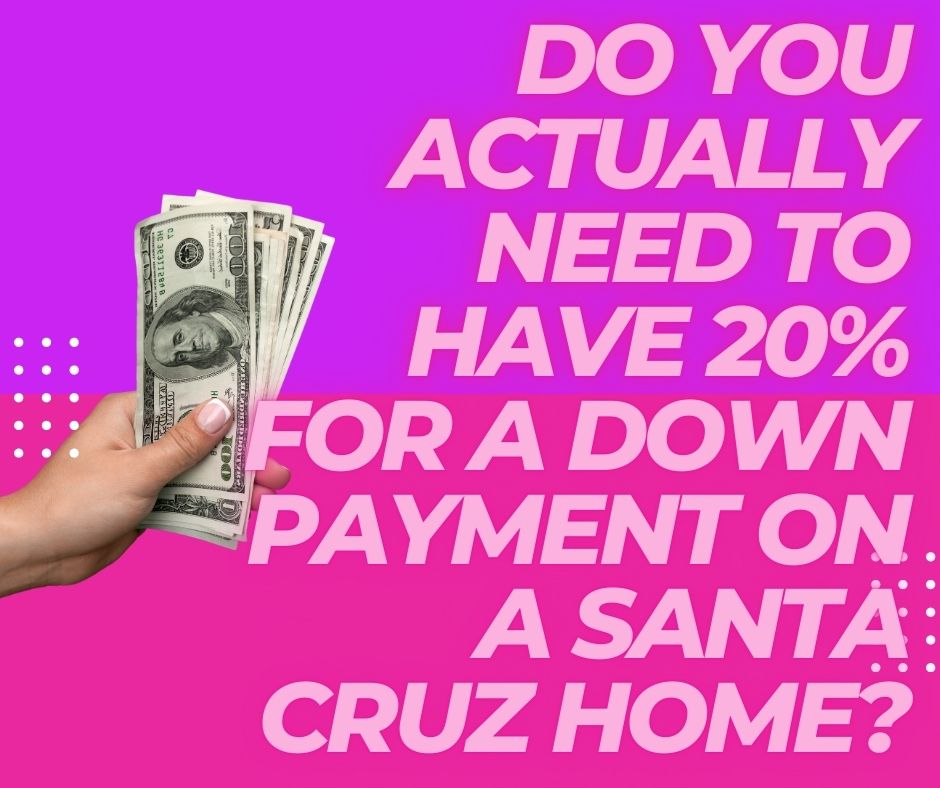 When it comes to purchasing a home in Santa Cruz many home buyers may be apprehensive when it comes to two words: down payment. The down payment on a home is an out-of-pocket amount of money that the buyer puts into the purchase of the home. It is like a qualifying deposit for your home mortgage loan to help communicate to your mortgage lender that you are putting your money where your mouth is. That you are taking the purchase seriously and not just asking for money you do not plan to be responsible with and pay back over time.
The traditional talked about number for a down payment to qualify for a loan has been 20% of the total home purchase price. While this is still a good number that can help homebuyers to secure the best mortgage loan terms it is a misconception that it is a requirement. Some homeowners have been led to believe that unless they have 20% of a home price in cash ready to go when they purchase a home, they will be unable to purchase one.
Looking into current statistics from recent purchases
There is good news for anyone in Santa Cruz considering purchasing a home in the near future that may not have the full 20% to make for a down payment. Looking into the actual numbers of real home purchases across the country recent homebuyers put far less down on their home purchase than the traditional 20%.
There are more options available to homebuyers that do not require the 20% down payment. When looking at the averages of what recent home buyers put down numbers have shown that the average first-time homebuyer in America put down just 6% on their home purchase. When it comes to an average for every home purchase recently the number is 14% of the purchase price put for it as a down payment. Repeat homeowners put down a bit more as they were able to use the profit from previous home sales and the average number for homeowners that became homebuyers was a 17% down payment which is still significantly below 20%.
Some home loans require just 0 to 3% for a down payment
There are even some options that are not as widely talked about that will consider accepting a down payment of anywhere between 0% and 3.5% of the total purchase price of the home. These loans do have special qualifying factors but they can be great options for the millions of homebuyers that do not have a huge sum of cash on hand to make a 20% down purchase payment on a home.
The most widely known loan programs that will accept lower down payments include FHA loans, VA loans, and USDA loans. It is good to note that for loans such as a VA loan, you must be in the military or a veteran of the military, or a spouse of one of the two. For a USDA loan to be accepted a home purchase must be made on a home within a specified geographical area. These loans are produced to help encourage homebuyers to look at homes that are in areas that may be a little further out from highly populated urban locations.
Finding a great home loan that works for your personal financial budget
Santa Cruz home buyers should look at all of their mortgage options. It is always advised by real estate professionals, financial experts, and even mortgage professionals that buyers shop around for more than one option. The easiest way to shop around for all of your mortgage options is to work with a trusted mortgage broker. A mortgage broker differs from your typical mortgage lender in that they will do the mortgage shopping for you. They are not tied to one mortgage lender so they are able to look at all of the products available to buyers in a certain location.
A mortgage broker will take personal financial information from you and then they will plug these factors into their program and begin doing the shopping on your behalf. All you have to do is wait for the results of the best mortgage options that the broker finds for you. They can also help to talk you through each option and how it differs from another and how each has its own benefits and what some of the drawbacks might be so that you can make your best-educated decision with some helpful professional insight about how they stack up against each other.
Purchasing a home in Santa Cruz it is always best to talk with a local real estate agent about the current state of the real estate market and how you might be successful in purchasing the home you are dreaming about. For more information on home purchase strategies and available Santa Cruz real estate contact call us anytime.