Explore the Redwood Forests of Santa Cruz on a Unique Steam Train Ride
Posted by Gregg Camp on Thursday, August 25, 2022 at 12:41 PM
By Gregg Camp / August 25, 2022
Comment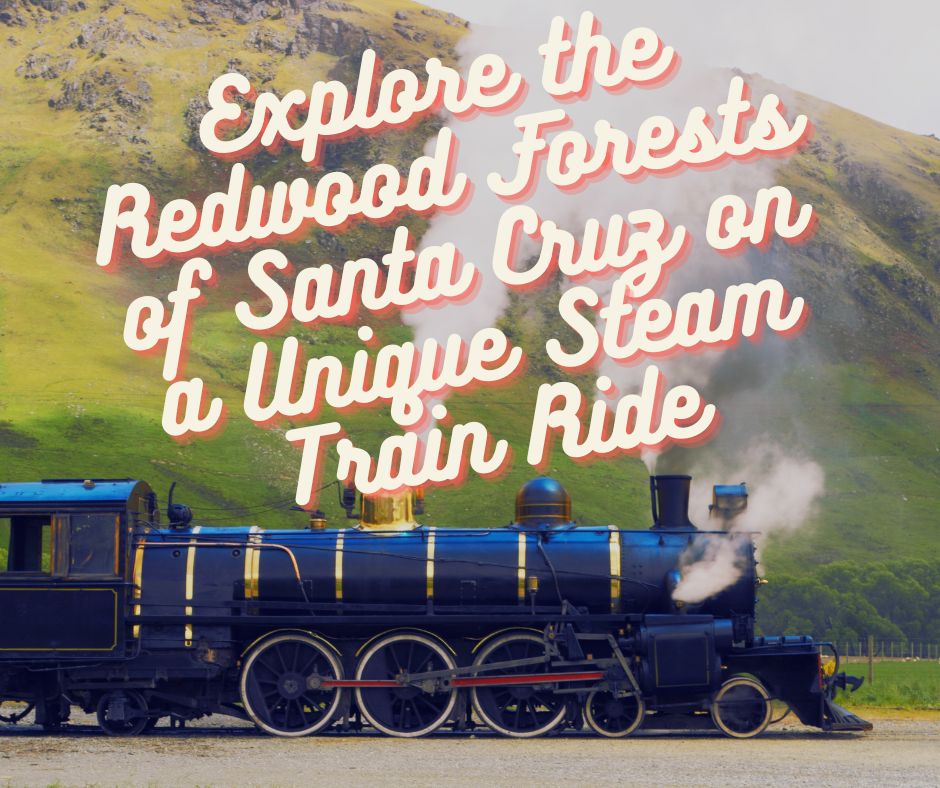 If you are looking for something unique to the Santa Cruz area to experience, checking out Roaring Camp Railroads train rides through the redwood forest is a great option.
Riding a train through the redwood forest in the Santa Cruz mountains gives you a whole different perspective on this beautiful outdoor area. The train tracks were built in the 19th century and the 19th-century logging steam train was originally used to haul giant redwood logs down from the mountains. This is a fun experience that anyone at any age will enjoy from the youngest toddler to the wisest and most experienced of us all.
Daily Train Rides
The historic steam train will take you on a tour up Bear Mountain while the conductor tells the story of the roaring camp railroads' history. They will share how Graham settled in the area in the 1830s and his settlement became known as Roaring Camp. They will share the tale of establishing a sawmill, the first one west of the Mississippi. Come hear the interesting and rich history in greater detail and learn about the amazing historic trains that traveled along the gorgeous tracks up to Bear Mountain.
Upcoming Events
Labor Day Weekend Fun
September 3-5 spend Labor Day weekend in the town of Roaring Camp for family-friendly activities and live music. You can take a train ride into the town either from the redwood forest steam train or the Santa Cruz beach train. Activities include tug-of-war, a three-legged race, corn hole, kids club activities, and a balloon toss.
Moonlight Dinner Parties
Enjoy four hours of fun with the forest steam train at Roaring Camp's Moonlight Steam Train Dinner Party. Start the night out with a delicious barbecue dinner followed by a leisurely train ride in vintage railway cars. In addition to dinner, you will also enjoy live music and line dancing the next available moonlight dinner parties are on September 10 and October 1. Dinner starts at 6 PM.
Santa Cruz Starlight Evening Dinner Party
In addition to the amazing redwood historic forest train ride, Roaring Camp Railroads also offers a train that takes passengers down to the Santa Cruz beach and boardwalk. On Saturday, September 3 you can board an evening train and dinner excursion from the beach to the redwoods. Enjoy yummy barbecue food, dancing, and a campfire.
The town of Roaring Camp
Trains depart from the town of Roaring Camp both for Bear Mountain and the Santa Cruz beach and boardwalk. In addition to the train depot, you will find a gift shop, two food venues, a Dancehall open for special events, a museum about the railroads, and picnic areas as well as kids club activities and outdoor games. Admission to hang out in the town of Roaring Camp is free but there is a $10 parking fee per car. So if you are not taking a train ride this can be a fun budget-friendly family hang out.
For more information about the Roaring Camp Railroad's activities, you can check out the Roaring Camp Railroad website. You can also purchase tickets in advance of your train ride from the website which is strongly suggested to secure your spot on the train for the day and time you hope to ride.
For more information on living in Santa Cruz, including Santa Cruz real estate please contact us any time.
More Great Things About Santa Cruz
12 of the Best Beaches in Santa Cruz
Museum of Natural History in Santa Cruz
What Does $1,000,000 Get You in Santa Cruz?
What is famous about Santa Cruz?