Exploring the Santa Cruz Farmers Markets
Posted by Gregg Camp on Thursday, August 11, 2022 at 10:31 AM
By Gregg Camp / August 11, 2022
Comment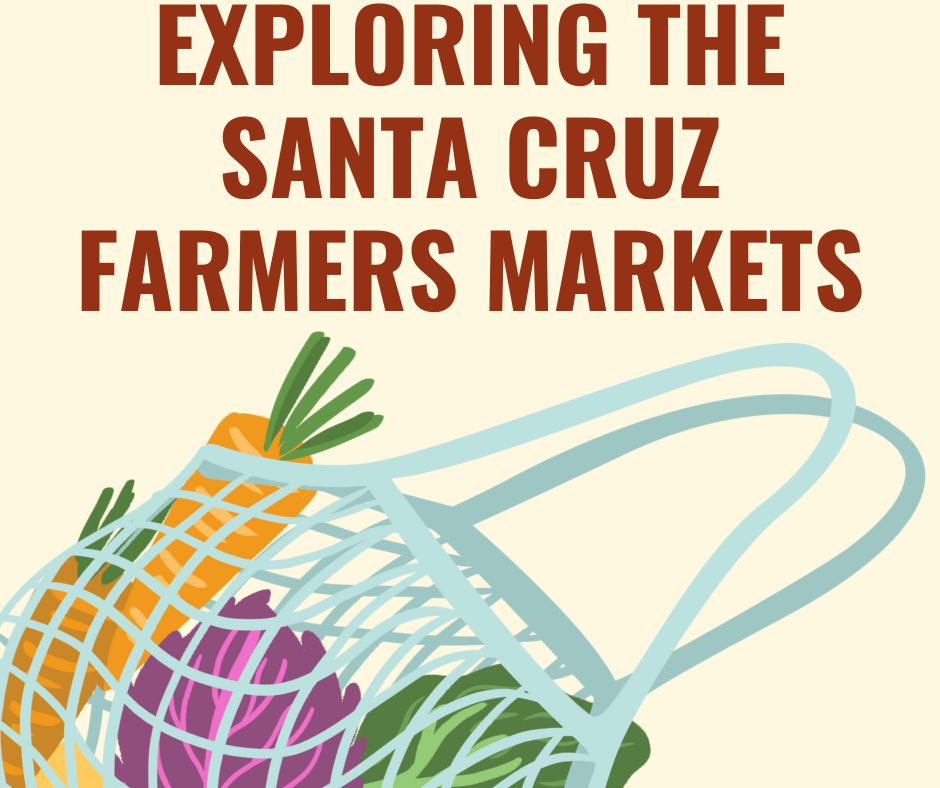 There's so much to love about the city of Santa Cruz and one of the favorites is the five different farmers' markets around Santa Cruz County. These markets have the best produce from all around the region as well as several other amazing locally made goods. In addition to being able to purchase the best items in the area, some markets offer live entertainment and freshly made entrees to come grab a meal.
Here's some more information about each of Santa Cruz's farmer's markets
Downtown
The downtown Santa Cruz farmers market may be the most recognized farmers market in Santa Cruz. It takes place year-round on Wednesdays from 1 to 6 in May through October and from 1 to 5 PM in November through April. It is Santa Cruz's largest and longest-running market located in the heart of downtown Santa Cruz just one block off of Pacific Avenue.
This farmers market has been in business for a very long time and showcases many of the farms in the area that are staples for organic and ecological farming in the area. It is an excellent source of fresh seasonal fruits and vegetables as well as pastured meats and local fresh flowers.
The downtown market is also said to be one of the best places to enjoy a diverse selection of ethnic foods. You can find authentic dishes from Naan and Curry to traditional Italian cookies and El Salvadorian pupusas.
Felton
The Felton farmers market runs through a portion of the year from May to October from 1 to 6 PM on Tuesdays at 120 Russell Ave. This is a highly anticipated weekly event during the spring, summer, and early fall that has been running for over 30 years. Some of the local residents of Santa Cruz make sure that they come out to the market every week and they think of it as a second home. There is a lot of great community at the Felton farmers market.
The Felton market started in 1987 and as such is the second oldest market in Santa Cruz County. It is one of the best sources of organic foods from local area farms. Here you can find everything you need on your grocery list from produce to meats to eggs and freshly baked bread. And of course, you don't want to forget about the fresh seafood.
West side
The west side farmers market is open from 9 AM to 1 PM on Saturdays all year long. It is closed on Christmas and New Year's Day if they fall on a Saturday. It is located on the corner of Highway One and Western Drive on the west end of Santa Cruz. This market is uniquely located at the northern edge of the Santa Cruz Greenbelt making it a great stop during a day of outdoor adventuring fun. It is an awesome place to grab something to eat before, after, or during a day at the Natural Bridges Beach or Wilder Ranch. It is also very close to downtown Santa Cruz.
The west side market has been in business for over 15 years offering 100% certified organic produce, artisan foods, beer, beauty products, tinctures, sustainable seafood, flowers, cooked-to-order cultural meals, pasture-raised meats, a full espresso bar, and live local music.
Scotts Valley
The Scotts Valley farmers market runs from 9 AM to 1 PM on Saturdays from May to November. It is located at 5060 Scotts Valley Dr. at the Boys and Girls Club parking lot. This is a fairly new location for the market that they hope to stay in for the foreseeable future. The Scotts Valley farmers market has been in operation since 2009. It offers fresh groceries as well as ready-to-eat meals.
Live Oak
The Live Oak farmers market is open on Sundays from 9 AM to 1 PM all year long at 15th and E. Cliff Dr. This market has been around since the year 2000 and it is a small neighborhood market that has grown to be a much loved weekly event by those who live in the community of Live Oak, Capitola, and Pleasure Point. It is a fun place to bump into neighbors, those heading out for a day at the beach, and cyclists. Some of the most popular items at this farmers market include berries, bagels, and chicories. It is also popular for the Sunday brunch offerings freshly cooked and ready to eat. Watsonville-based Hidden Fortress Coffee is also a popular vendor.
There are countless reasons to love living in Santa Cruz and Santa Cruz County. For more information on living in Santa Cruz and surrounding areas including available Santa Cruz real estate please contact us anytime.
More Great Things About Santa Cruz
12 of the Best Beaches in Santa Cruz
Museum of Natural History in Santa Cruz
What Does $1,000,000 Get You in Santa Cruz?
What is famous about Santa Cruz?