Fractional Homeownership is Gaining Ground in Carmel By The Sea
Posted by Gregg Camp on Thursday, March 16, 2023 at 2:22:47 PM
By Gregg Camp / March 16, 2023
Comment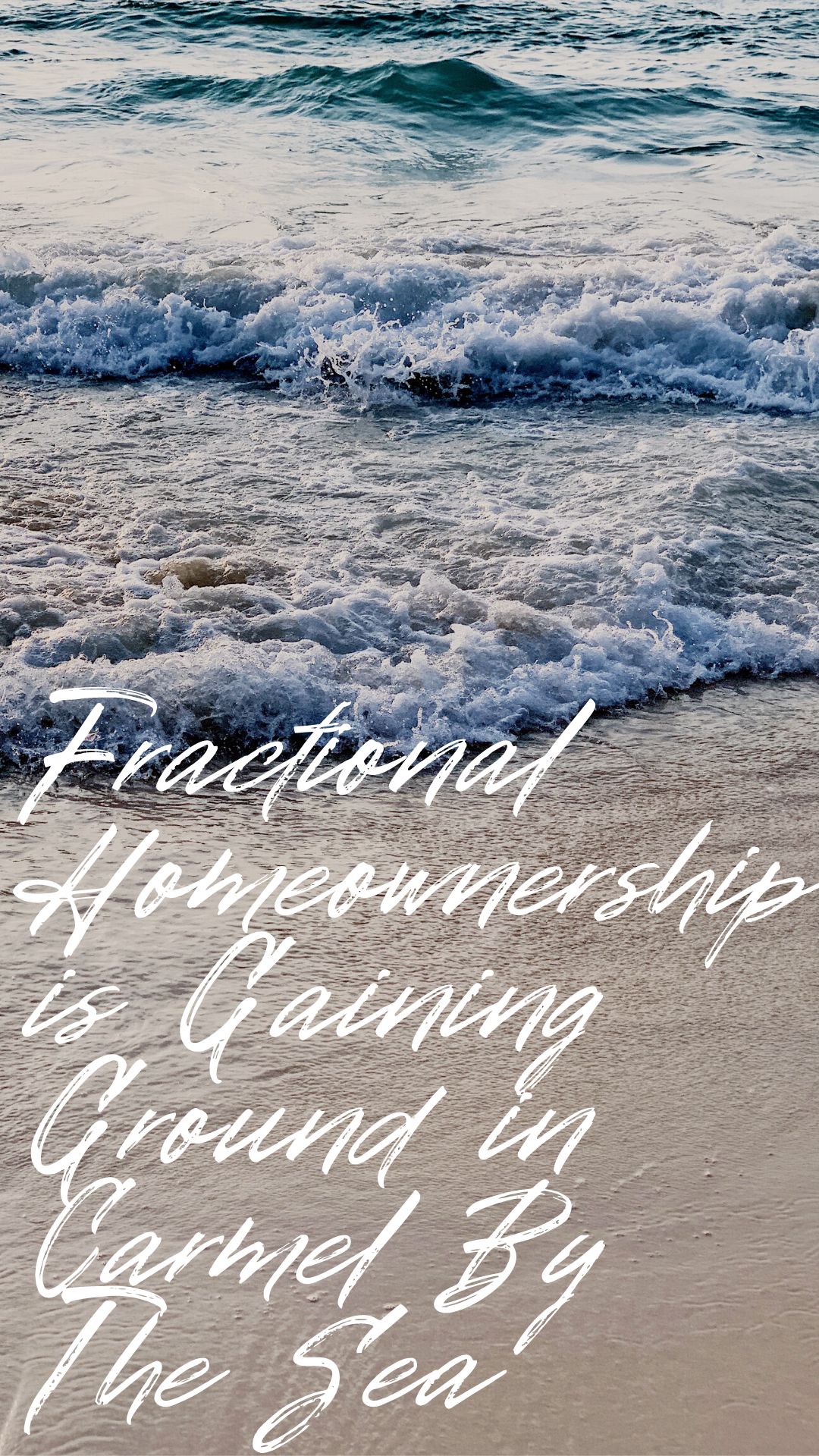 Carmel by the Sea has long been a highly desirable destination to not only live in but to visit. It is one of the most beautiful locations along the California shore. With that comes an increased interest in people interested in purchasing homes for vacation purposes. A new way of owning a vacation property is fractional ownership.
What is fractional ownership?
Fractional ownership is a somewhat new term in the vacation home ownership world. Though the term is new, the actual concept has been around for some time. Fractional ownership is essentially a group ownership of a vacation property. Group ownership has been around for years most commonly through owned trusts, nonprofits, and other legal arrangements.
Fractional ownership is unique in that companies purchase homes in desirable vacation destinations and then fix up the homes, furnish the homes, and expertly decorate them. Once the home is ready to sell they will divide the property into individual shares. Depending upon the size of the property it is often sold between eight and 12 individual shares. This means that eight individual owners or families now have a stake in a new vacation home. This model of fractional ownership is said to be making vacation properties in highly desirable destinations a more affordable and attainable reality.
When shares are sold in a fractional ownership home there is a legal framework of the co-ownership created often times through a limited liability corporation or LLC. This LLC will hold the title on the deed to the property receiving it from the selling company. Each new owner with a share is now a member–partner of the limited liability corporation. The company that sells the fractional ownership opportunity then retains no ownership rights to the property. They do however stick around acting as a property manager on the behalf of the limited liability corporation. The management can include paying bills, scheduling maintenance and repairs, and handling the scheduling for owner usage. The average fractional homeowner visits their vacation home somewhere between six and seven times a year for around a week each time. Most companies that sell fractional ownership properties prohibit owners from renting out their homes to a second party.
Some full-time residents are reluctant to embrace fractional properties
When some full-time residents in residential neighborhoods surrounding properties purchased by companies for the purpose of fractional ownership find out a home is set to become a vacation property with several different owners they are hesitant.
Many times hearing that a vacation property is moving in next door people immediately think that there will be a revolving door of one-time vacationers that care little for the property or the neighborhood. Since the large wave of less-than-ideal property rentals in the Palm Springs area has occurred vacation rentals alongside year-round properties have increased tensions with primary homeowners. This concern is understandable, but the difference in fractional ownership is that owners are purchasing with the intent to use the property themselves. It is good however to look into if the company allows its owners to rent the property.
There are currently some residential homeowners in neighborhoods with fractional ownership properties that have built up organizations to take action against the companies purchasing homes and selling them into fractional ownership. Some of the people involved in these organizations say that they are OK with co-ownership from friends and families but are not excited about corporations purchasing homes and profiting from them through the sale in management.
How fractional ownership might be beneficial
Those involved in the companies that are focused on purchasing properties in desirable areas to flip for fractional ownership use say that there can be many positives to having fractional ownership homes in a neighborhood. The first is allowing the average person that would otherwise be unable to afford a dream vacation property to be able to do so.
The second benefit of companies that do not allow their owners to rent out the property is that the only people using the property have a stake in the ownership and as such have heightened responsibilities to the property and themselves are there to respect the property with hard-earned money invested into it. Some homeowners that have already purchased fractional properties say that they have acclimated to their property like a true second home and that their children have even made friends with the year-round residents.
For more information on a property in Carmel by the Sea including full-time properties, vacation property opportunities, and more please contact us anytime.