How to Kill a Perfectly Good Real Estate Deal
Posted by Gregg Camp on Tuesday, March 29, 2022 at 10:55 AM
By Gregg Camp / March 29, 2022
Comment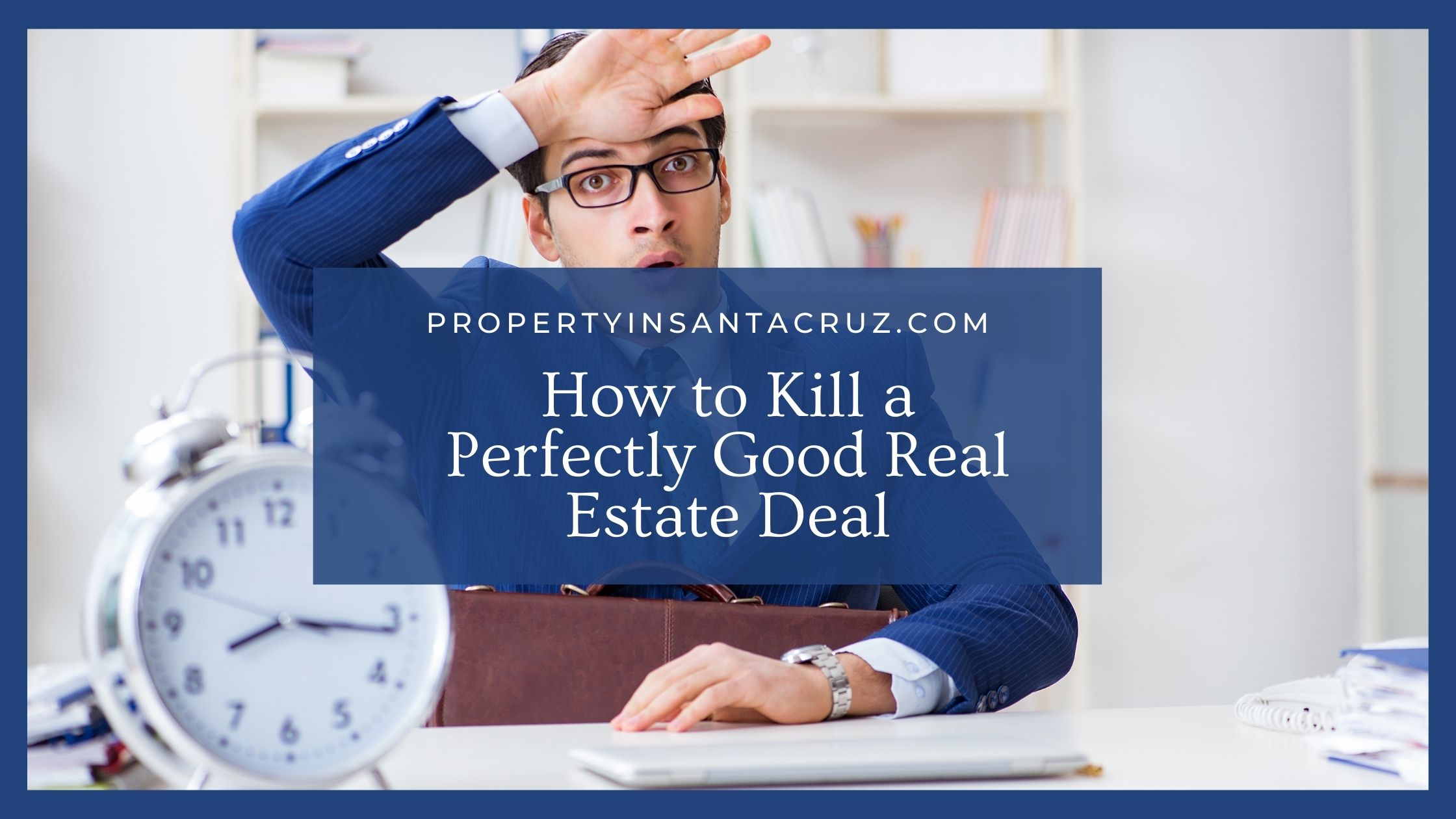 In today's real estate world, buyers know when the property hits the market almost immediately. With the Internet and updated real estate websites, homes can hit the market, be seen that afternoon and have an offer by dinnertime. Properties that sell quickly often come extremely close to the listing price if not over in hot markets. Buyers can look at all the pictures of a home, contact our agent and have an offer on the table within a few hours.
If a home is priced correctly, is in decent condition, and has a great location, chances are that home will sell fairly quickly. If the home doesn't have one of these three features buyers will typically move on. The longer a home sits on the market the higher the risk that the property won't sell for list price. If buyers do return to a home it's typically because the price has been lowered or they can't find anything better.
This is why time is one of the biggest things that can kill real estate deals. Not only the length of time a home sits on the market but during the real estate transaction as well. If parties do not respond in a timely manner or within the three day response time, the deal can technically be terminated by either party. If buyers submit an offer and sellers refused to return the offer, counter, accept or reject it technically dissolves.
Days on the market also can kill a real estate deal. "When a home first comes on the market everyone who is looking for a particular type of home in certain price range and location sees it right away online. If it does not sell, those potential buyers have moved on, and as time goes by, only buyers new to the market are discovering the home. By definition, that is a smaller group that all the buyers who are looking when the house first came on the market." [Washington Post]
Then you have the closing extension. During short sales and foreclosure time is definitely not on buyer's or even a seller's side. A short sale is anything but short and typically takes anywhere from 3 to 12 months depending on the situation. Buyers need to be prepared to wait and have patience for this type of transaction.
We recently had a couple that put an offer down on two different homes within about a two-week period. The first home did not receive a response back from the listing agent or the seller and the three-day waiting period expired. They proceeded to put an offer down on a different house in which they did receive a counteroffer and negotiated to an acceptable mutual agreement. After this second offer was accepted the listing agent on the first home came back and accepted the offer, however, because the offer had expired, the buyer was no longer obligated to follow through on the first offer. Because the listing agent and/or seller neglected to respond to the buyer in a timely manner they lost out on a potential sale and killed the deal.
Time is definitely a huge factor when dealing with real estate. Sellers don't want to wait too long for an offer and buyers need to respond in a timely manner in order for a transaction to continue on. Buyers need to be ready with pre-approved financing in order to make an offer in a hot market and sellers need to be ready to make a decision on pricing their home and on any potential offers that may come through.
For more information on buying or selling a home in Property in Santa Cruz, start here or contact me at any time for personal service.
Related: Pros and Cons Owning a Home in a Tourist Town
What if I Can't Fix a Fixer Upper Before Selling?
What Does Falling Out of Escrow Mean?
Capital Gains and Buying a Home Out of State