Mistakes Some Santa Cruz Homebuyers are Tempted to Make Right Now
Posted by Gregg Camp on Tuesday, September 5, 2023 at 3:37:15 PM
By Gregg Camp / September 5, 2023
Comment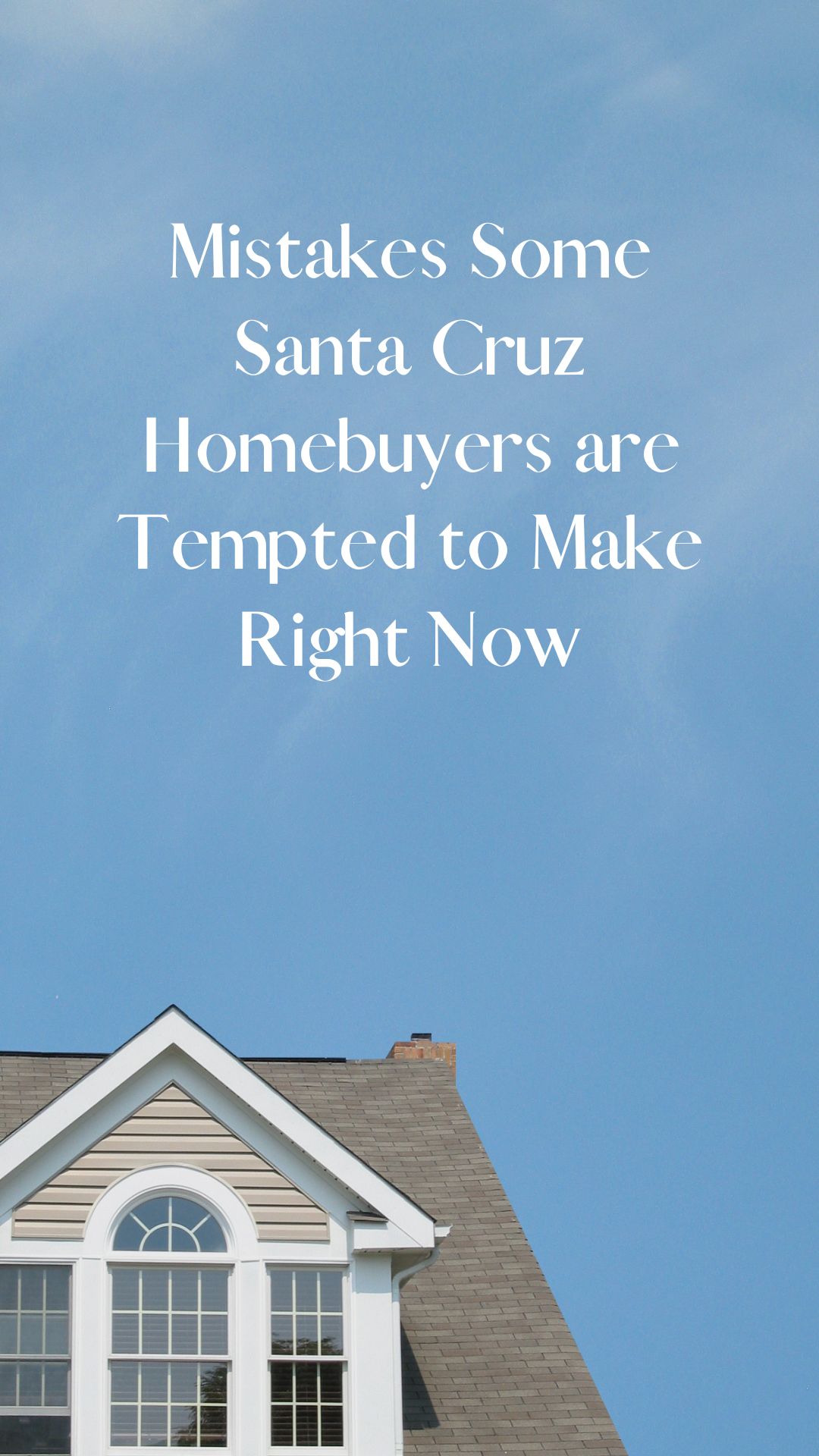 Since 2020 the real estate market has been on a roller coaster. Currently, that roller coaster has shifted to an uphill climb for many Santa Cruz homebuyers. Facing a challenging market those looking to purchase a home in Santa Cruz or Monterey County may find themselves looking for different strategies to help them get into a home at an affordable price that they actually like.
The real estate market has been hard to navigate for many homebuyers here and across the country and understandably has caused a bit of buying anxiety. These challenges and stressful feelings can push some homebuyers to make decisions they feel are helpful but could actually be more of a mistake than a benefit to their homebuying process
Here are some of the homebuying mistakes we are seeing some Santa Cruz buyers being tempted to make.
Playing a timing game
Trying to time the market, meaning finding the perfect time to purchase a home, is like playing a losing game. Since many home buyers saw unbelievably low interest rates not too long ago some are thinking that they can wait it out and hold off for the perfect moment to come along to purchase a home. The truth is however that there is no ultimately perfect buying market condition for a home.
One of the biggest mistakes a buyer could make is to not move forward with a home purchase currently in hopes that mortgage rates will drastically come down in the near future. Instead, it is better to ask yourself questions as a Santa Cruz homebuyer to help you decide if you personally are in a good position to purchase at home.
These questions can include What if you purchase at home now and then prices and interest rates increase? This could be a win-win and you would be ahead with tax benefits. You could also ask yourself what if you buy now and prices drop? This would only impact the home buyer if they decided to sell their home as they would end up selling it at a loss. The reality is a majority of homebuyers are likely going to stay in their home long enough to see the value of the property appreciate again. What if you were to buy now and interest rates decreased? The good news is that a home buyer is able to refinance their mortgage every six months if they wish. It is however a good idea to consider the break-even point on the cost of taking out a new mortgage loan. The biggest and most important question could be what if you do not buy now and home prices keep appreciating as well as mortgage prices?
Waiting to purchase a home is unlikely to change the basic fundamentals of purchasing a home and the long-term benefits of investing in real estate in America. With time, a property purchase will be the most solid and dependable asset that people own. But that is the main attribute, purchasing a home should be done with a mindset of longevity. Homeowners benefit from a locked-in home payment when they have a fixed rate loan for the life of a loan without rent increases and they also benefit by earning equity in the home and increasing their credit score with on-time payment.
Having a focus only on the mortgage payment
As mortgage rates remain high Santa Cruz buyers are concerned with how much a monthly mortgage payment will cost and how much it has increased as compared to mortgage rates just a year ago. Buyers also need to take into account all of the other costs of owning a home such as paying for homeowners insurance, taxes, maintenance, and all of the other costs of owning a home. It is always best to factor in all of the costs of homeownership to make sure that you can fully prepare and truly afford your home purchase.
Buying a home quickly because it is the right price or without looking at it
Some buyers are so focused on finding a home within their price point that when they finally find one they hastily make an offer to purchase the home. Or they put an offer in on the home only seeing pictures of it and not looking through it in person. This is a very risky thing to do and it leads to buyer's remorse in many cases. It is always best to do everything possible to see the home in person and go through the due diligence process with care and detail before closing on a home purchase.
Not getting a feel for the seller's motivation
There are still some very hot and competitive markets and though there are news stories about sellers being more willing to negotiate and offer concessions it is not a good idea to assume every seller is going to do this. Buyers should make sure that they are aware of a seller's motivation for listing their home for sale. Sometimes a successful offer is one that is at the list price or just above it. There are still bidding wars going on with low inventory and knowing a seller's motivation behind selling their property and speaking to that with your home offer could help you to become the accepted purchase offer on the home you are interested in.
Not using an experienced real estate agent
In any buying condition crazy or not, a buyer is crazy to not hire a buyers agent to help them with their home purchase. It is also highly important to make sure you know your agent very well including their experience and knowledge of the real estate market you are looking to purchase in. There has been an influx of real estate agents to the field in the last few years and many of them have quit shortly after starting. This is because the market is crazy and stressful. You want to make sure you are hiring an agent who is dedicated and motivated to do their job well for their clients. Working with a real estate agent can help you find a home that you can truly afford right now instead of playing a gambling game of waiting it out. They can help you to find a home you actually want at a price you can comfortably afford to pay and in an area that you will love to live in for many years to come.
If you are searching for a home in Santa Cruz County or Monterey County please contact me. I am highly knowledgeable in local real estate and know what it takes to buy or sell a home currently in today's real estate conditions. I am dedicated to the best interest of my clients and helping them find homes they love at prices within their affordable budget.