Amazing Scenery at Your Front Door
Scenic Road in Carmel-by-the-Sea is a stretch of road that runs from Ocean Avenue to just past the intersection of 17th Avenue and Valley View Avenue. The road winds down the coast along Carmel Beach and offers breathtaking views of the dazzling blue ocean on one side and unique and quirky million dollar homes on the inland side. Traveling down Scenic Road is an interesting stroll that presents a myriad of things to see and experience in a wholly accessible manner.
The ocean side is easy to explore because of the walkways that lead down to the beach, which makes traveling back and forth from the road to the beach a breeze. Sea lions, otters, whales, dolphins and different varieties of birds are just some of the sea life you may observe in the ocean or on points of land while you walk along the road. The beach offers a variety of terrain such as small rock pools, white sand, cypress trees and large rock formations.
Charming and Interesting Homes All Around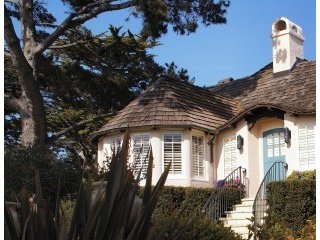 If you want to explore the amazing homes that are further inland, just walk down any of the streets that branch off Scenic Road. These streets will then take you into the neighborhoods of the Golden Rectangle. Homes in Carmel...