Most Desirable Neighborhoods in Salinas California
Posted by Gregg Camp on Thursday, June 22, 2023 at 1:30 PM
By Gregg Camp / June 22, 2023
Comment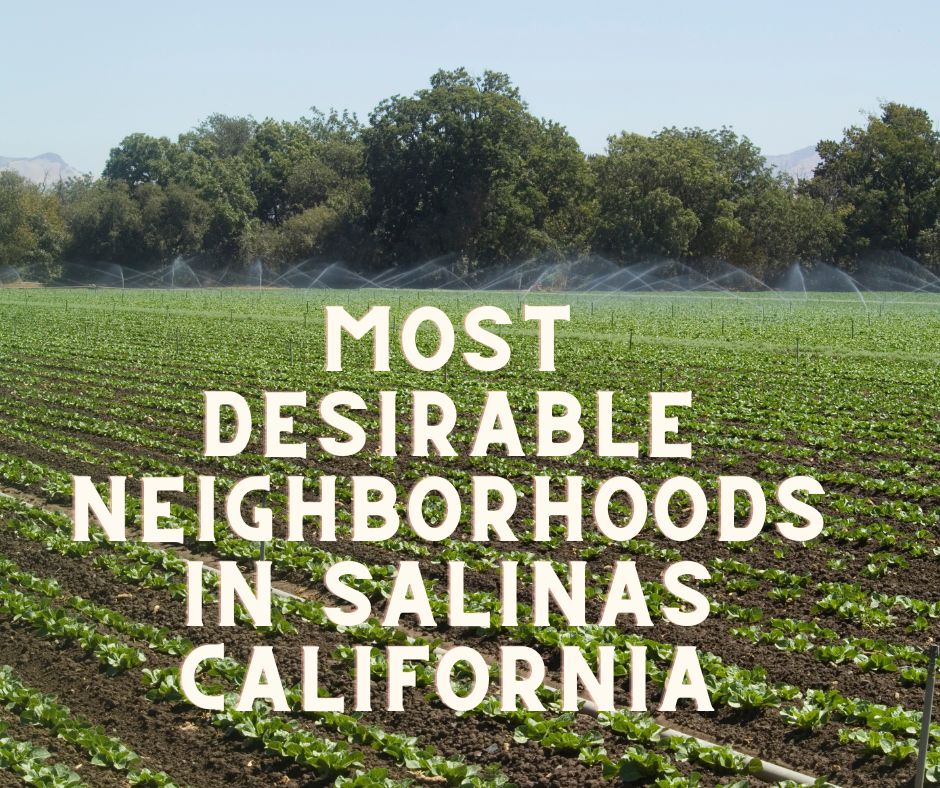 The town of Salinas California is about 45 minutes south of Santa Cruz in Monterey County along the Monterey Bay of Central California. It is nicknamed the salad bowl of the world for its rich history and farmland that helped the area become the most thriving economic portion of the country during the 1920s. Today it is still a beautiful area with plenty of agricultural thriving properties. And has also grown as a desirable place to live.
If you are interested in moving to the Salinas area he may be wondering what the best neighborhoods in Salinas have to offer. Let us walk you through some of Salinas's current most popular neighborhoods to help you get a feel for the real estate here
Most popular neighborhoods in Salinas California
South Salinas
The south Salinas neighborhood is located in none other than the southern portion of Salinas. This area offers a good mix of both commercial and residential areas making it an awesome location for anyone hoping to be minutes from restaurants and other modern amenities.
South Salinas offers a majority of single-family homes with some apartments and condos sprinkled in. The median home price currently as of 2023 and South Salinas is $667,500.
Santa Rita
Santa Rita offers a very eclectic mix of housing options from townhomes to condos to single-family homes and even some apartment properties. Not only are the property types varied the age and architectural types are vast as well. It is easy to find a home that fits your needs and your style preferences in Santa Rita.
Santa Rita is located in the north end of Salinas and is mostly residential. There are a few parks in the area and it gives easy access to the rest of Salinas through Highway 101.
Hardin Ranch
Hardin Ranch offers a mixed-use neighborhood with several residential areas and if you shopping centers mixed in. It is full of neighborhood parks the most popular in the area is El Dorado Park. Homes in Harden Ranch are predominantly single-family and there is a few condo properties mixed in. The median home price in Hardin Ranch comes a little bit higher at $800,000.
Downtown Salinas
Downtown Salinas is of course at the heart of all of the bustling activity that Salinas has to offer. This of course is the first area for anyone hoping to be within walking distance and rarely have to use their car to get to wherever they want to go in town. Salinas is charming and offers many historic storefronts and several local restaurants as well as famous historic landmarks including the National Steinbeck Center and the Fox Theater. There are some very unique properties including duplexes and single-family homes in Salinas. If you have always wanted to live in a historic Victorian home you can find one in the downtown area.
North Salinas
This neighborhood is just north of the downtown area of Salinas and is best known as the home to Rabobank Stadium as well as several of the favorite restaurants in the town of Salinas. In this area, you can find single-family homes and condos with a median price range of $628,000.
Creekbridge
Some might say that the creek bridge area of Salinas is the most popular with plenty of areas of interest inside the neighborhood itself. Creek Bridge offers plenty of outdoor space with numerous walking paths and is home to Natividad Park and the first tee golf course it is a picturesque neighborhood and one of California's most popular towns. There are also many great local restaurants and several areas of retail space so you don't have to go far for whatever you need.
Many of the homes in the Creek Bridge area were constructed during the 1990s including condos and townhomes as well as single-family properties. The Creekbridge area is highly desirable and brings a bit of a higher price tag as compared to other areas of Salinas with a median home price of $756,000.
It is not hard to see why Salinas is so desirable to move into. If you would like to learn more about Salinas please check out our website page dedicated to information about the town of Salinas and all current available Salinas real estate listings on the MLS. These listings update continually so it is a great place to find a Salinas home in a neighborhood you were interested in that meets your wants and needs.
After looking at the Salinas page please contact me anytime. I am here to help you get more information about a Salinas property you may be interested in or I can start a personalized home search to find the Salinas home that fits you best as soon as it is available for sale. I am highly knowledgeable in all Monterey County real estate as well as Santa Cruz County real estate and make it my mission to find you the best home.