Most Popular Towns to Live in Monterey County
Posted by Gregg Camp on Sunday, July 30, 2023 at 11:12:32 AM
By Gregg Camp / July 30, 2023
Comment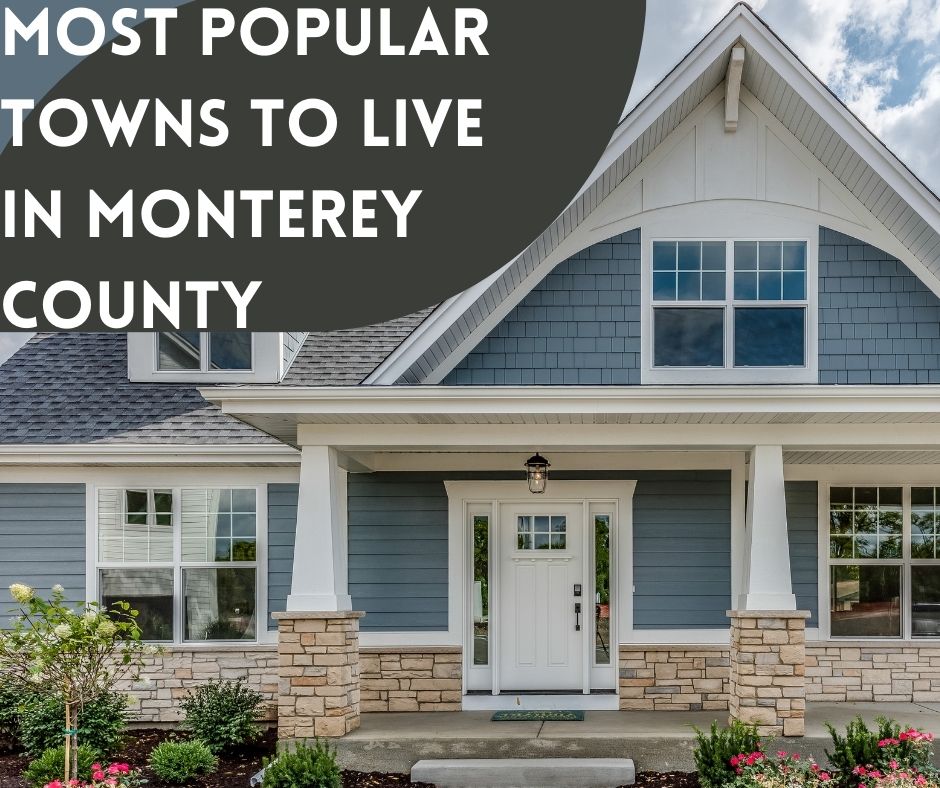 Monterey County California is one of the most beautiful areas of the state located centrally on the California Coast overlooking Monterey Bay. It is a neighbor to the always popular Santa Cruz County and is just a short distance south of the San Francisco area as well as Silicon Valley. There are many gorgeous beautiful towns that make up Monterey County, the most notable of course being the actual city of Monterey itself.
Here are some of the Most Popular Places to Live in Monterey County
Carmel By The Sea
Carmel is one of the most iconic and beautiful towns in Monterey County. The village looks like something out of a fairy tale. The homes within Carmel proper are kept within strict building codes and upkeep measures to ensure the the center of the city or village maintains its charm. Many of the homes you will find closest to the commercial downtown hub referred to as the village are cute cottages that seem like they were built for the likes of a theme park or movie tent.
Carmel has earned several best of titles including the best place to retire. Carmel is not the most budget-friendly town to live but it defiantly is the most picturesque.
Marina
Marina is aptly named because it is located right on the coast. It is a very popular place to reside for boat owners. It is also well-known as a great area for fishing or just hanging out on the beach. IT just might be Califonia's hidden gem seaside town. It is tight-knit and a great place to get to know neighbors. It has a great collection of local restaurants, community pride, and homes at a more affordable price point as compared to other areas of Monterey.
Del Rey Oaks
The town of Del Rey is smaller nestled between Monterey and Salinas. It is the place to get out and enjoy some nature just a bit inland from the coast. It is a space a bit removed from the bustle of more notable towns, but still beautiful and a great place to settle into. The area is mostly residential making it a great place to find any style of home you are looking for. This small town is home to the Monterey Peninsula Airport making it convenient for those who love to travel.
Moss Landing
Moss Landing is a small quaint area of Monterey with a large fishing heritage. It is popular among tourists who love the Monterey area and are looking for an outdoorsy natural space to enjoy. The two main employers of this small town are the Moss Landing Marine Laboratories and the Power Plant. It is popular for surfing, antique shopping, whale watching and wildlife spectating, and more.
Monterey
We of course could not leave out the city of Monterey. Monterey is a town full of rich history and offers a great atmosphere as one of California's best towns by the water. Monterey was once a prominent trading and whaling town and the first capital of the state when it was not yet United States Territory. History in Monterey dates back to 1770. A great place to learn about Monterey's history is the Monterey Maritime and History Museum.
Today Monterey is a charming town with much pride in its rich and unique history. It is a beautiful place to enjoy beaches and take a hike along the water. The Monterey Bay Aquarium is famous and worth a visit or a season pass purchase. Monterey holds all the amenities of a sizeable city with the atmosphere of a quaint seaside village.
There are many great areas of Monterey County to call home, including several smaller quiet areas that provide a more affordable price point for homes. If you are interested in moving to the Monterey area contact me any time. I am highly knowledgeable in all Monterey and Santa Cruz real estate and am here to help you find the best central California home that meets your wants and needs.