Museum of Natural History in Santa Cruz
Posted by Gregg Camp on Tuesday, April 12, 2022 at 1:08 PM
By Gregg Camp / April 12, 2022
Comment
The Museum of Natural history in Santa Cruz is the first museum dating back to 1904 with the founding collection of Santa Cruz lighthouse keeper and naturalist, Laura Hecox. The Museum features educational, hands-on exhibits for children, families, and adults who are curious about the world they live in and the natural history of one of the most scenic locations on the California coast.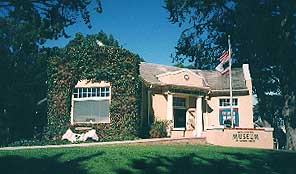 The Museum traces its beginnings to the late 1800s and the collection of naturalist Laura Hecox. Miss Hecox was born in Santa Cruz in 1854 and from childhood had a keen interest in the natural sciences. Her parents, Adna and Margaret Hecox traveled overland from Illinois to California in 1846 and settled in Santa Cruz the following year. In 1869 Mr. Hecox was appointed keeper of the original Santa Cruz Lighthouse and took up residence there with his wife and family.
The museum opened on August 21, 1905. There were displays of dried sea stars and crustaceans, Indian baskets and mortars, Eskimo artifacts, minerals, agates, gems, petrified woods, coral, bird nests and eggs, turtle and tortoise carapaces, and several cases of shells, including two hundred local species. The Hecox collection remained at the library until about 1917 when it was moved to the new Santa Cruz High School. The Crafts House, home of the Museum from 1930 to 1954, was located behind the present Museum where there is now an amphitheater.
In 1984 the Museum built outdoor exhibit kiosks on the Santa Cruz Wharf featuring marine life, fishing, and wharf history. In 1986 the Surfing Museum was established as a satellite facility at the Mark Abbott Memorial Lighthouse. The fascinating displays of old surfboards and historical photographs attract 70,000 visitors each year.
In 2009, to avert closure due to lack of funding, the City of Santa Cruz entered an agreement to turn over the operation of the Museum to its long-time non-profit partner, the Santa Cruz Museum Association). As a private, non-profit organization, the Santa Cruz Museum of Natural History now depends upon our local community and other generous donors to keep our natural history legacy thriving.
Last summer, the Museum celebrated its 116th anniversary. The Museum is working on exciting plans for the future to ensure the Museum continues to be a dynamic place to learn about the Santa Cruz region's unique natural history and cultural heritage. It is a wonderful place to visit with your family. There is so much unique historical information to learn from.
For more information on Santa Cruz contact me below or for all Santa Cruz real estate, trust your next move with Greg Kennedy!
Photo Credit
By SluggerBugger at English Wikipedia, CC BY-SA 3.0, https://commons.wikimedia.org/w/index.php?curid=38220440