October 2021 Real Estate Market for 93921
Posted by Gregg Camp on Tuesday, November 30, 2021 at 7:33 AM
By Gregg Camp / November 30, 2021
Comment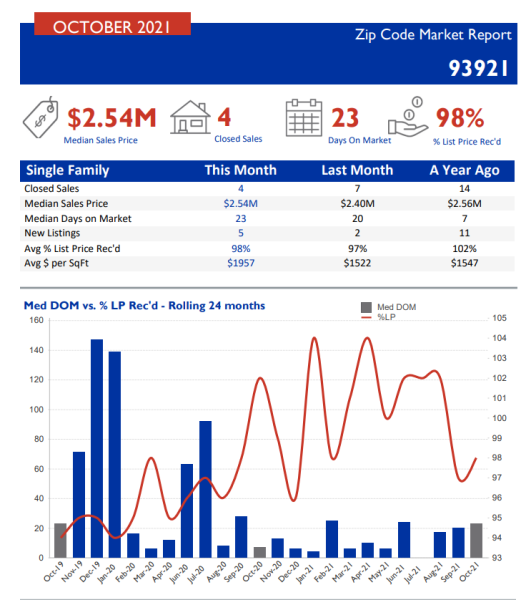 Let's see what the market is done in Carmel California for the month of October 2021. The median sale price was $2,054,000 with four closed sales with an average of 23 days on the market. Homeowners received 98% of their list price received. Days in the market is up by three over September 2021 and a year ago, properties were selling at an average of just seven days. There've been five new listings where there were only two last month but 11 last year at this time.
One year ago, the average percentage of list price received was at 102% so we are seeing a slight drop in the list price received percentage. The average price per square foot is at 1957 which is definitely up from last month and last year. However, with just a couple of new listings and a few souls, this number is greatly skewed. However, we can compare this to last year at $1547 per square foot versus this year, which is definitely gone up.
If you're considering buying or selling in the Carmel California real estate market, these numbers can be helpful to know when the list of how to list, and what the trajectory is doing. For more specific numbers on what your Carmel home is worth, contact my office below.