October 2023 Events for Foodies in Santa Cruz
Posted by Gregg Camp on Wednesday, October 18, 2023 at 2:55:06 PM
By Gregg Camp / October 18, 2023
Comment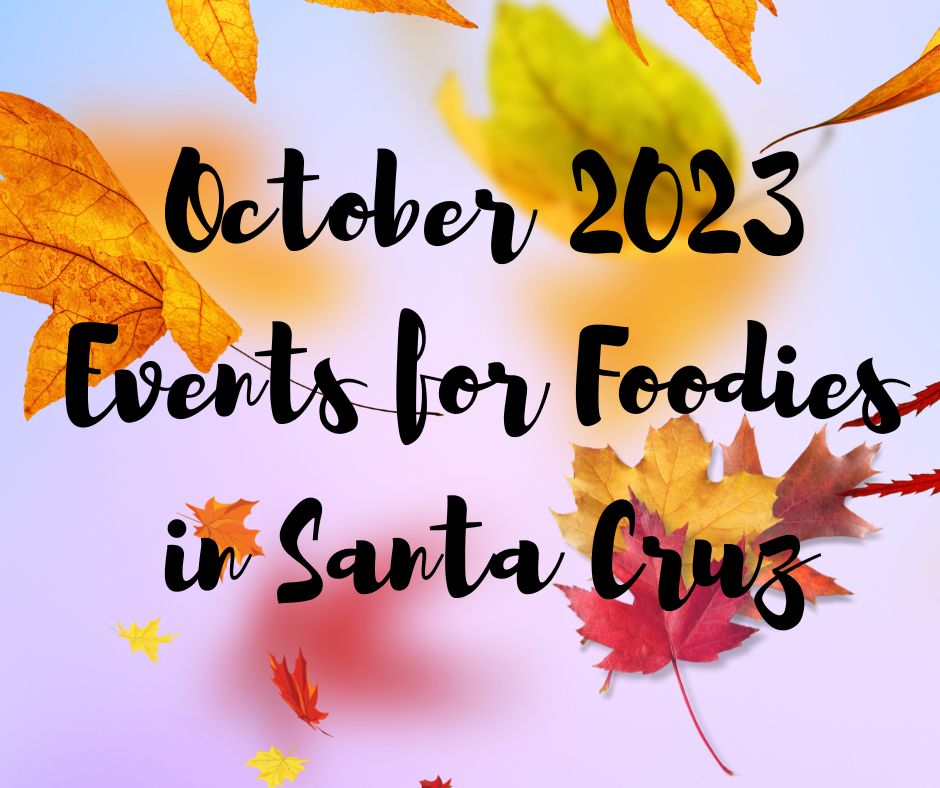 If you have just moved to Santa Cruz or are checking out what there is to do in the Santa Cruz area as you consider a move here, you may be looking for some fun things to do. Check out this list of great events for foodies in Santa Cruz this October. Who doesn't love a fun time featuring some great food?
Santa Cruz County October Foodie Events By Date
Friday, October 20
Vine to View Dinner featuring Calerrain Wines
The dinner is hosted by the restaurant at Chaminade Resort. The View will serve a four-course meal focused on wine pairings of the fantastic wines of Gilroy's Calerrain Wines. The Chaminade Resort and Spa is located at 1 Chaminade Lane in Santa Cruz. The Vine to View Dinner will start a at 6 pm and ends at 9 pm. Tickets are $100 per person.
The Mountain Affair
An event at Casa Nostra restaurant offering an elegant fine dining experience with great food, local wine, and live music. The Mountain Affair event is a fundraiser for the Mountain Community Resources nonprofit that provides services to San Lorenzo Valley residents. Casa Nostra is located at 9217 Highway 9 in Ben Lamond. Tickets are $120 per person the event is from 5 to 9 pm.
Saturday, October 21
Bonny Doon Art Wine and Brew Festival
This is an annual favorite for many people in Santa Cruz County. The event has been nicknamed "the best little party in the Santa Cruz Mountains." This will be the 20th year of fun. The event features arts, crafts, and tastings from local wineries and breweries in addition to food and dancing. It is a fun night that benefits the Bonny Doon Community School Foundation. The event is held at the Crest Ranch Christmas Tree Farm at 12200 Empire Grade in Santa Cruz. Tickets are just $50 per person and the event is scheduled for 11:30 am to 4:30 pm.
Uncork Corralitos
An event hosted by the Freedom Rotary Club to feature the culinary arts present in South County. There will be three food trucks on-site and a collection of local wine, beer, hard ciders, and nonalcoholic beverages. this is a benefit event for Second Harvest Food Bank and the El Pajaro Community Development Corporation Kitchen Incubator. The event is at the Alladin Nursery and Gift Shop at 2905 Freedom Boulevard in Watsonville. Tickets are $40 and the event starts at 1 pm and ends at 4 pm.
Pleasure Point Sip and Stroll
Take a nice walk through the Pleasure Point neighborhood of Santa Cruz and enjoy some samples from local wineries along the way at 20 participating businesses in the area. Tickets are $40 and the stroll is from noon to 5 pm.
Vegan Moroccan Cooking and Wine Pairing Class
Learn to make a delicious four-course plant-based Moroccan meal at the Flipjack Ranch from 1 to 5 p.m. The menu plans are for chickpea stew and lemon-herb couscous with a French red wine pairing of 2018 Chateau Cleyrac Bordeaux. Tickets are $175 and the ranch is located at 4600 Smith Grade Road.
Thursday, October 26
Harvest Party at Summit Wineries
Four area wineries are coming together to offer a community harvest party with some of the best wines in the county, a DJ offering great music, and great food. The four wineries hosting include Silver Mountain Vinyard, The Burrell School, the Wrights Station Winery, and the Villa del Monte Winery. Tickets are just $10 for entry and the event is from 5-8 pm. The event location is the Burrell School Vineyard and Winery at 24060 Summit Road in Los Gatos.
Friday, October 27
Enjoy Food Truck Friday at the Skypark located at 361 Kings Village in Scotts Valley from 5 to 8 pm. The event is free to enter and each truck has meals of varying different prices. This will be the last Food Truck Friday of the year so come enjoy it.
Saturday, October 28
Harvest Festival
Bargetto Winery is hosting its Harvest Festival from 4 to 6 p.m. Tickets are $45. Enjoy seasonally themed appetizers, cheese pairings, and barrel samples from the 2022 vintage. The winery is at 3535 North Main St in the town of Soquel
Homeless Garden Project's Sustain Supper
Sustain Supper is an outdoor fall feast event to fundraise for the Homeless Garden Project. This year's fundraiser features the culinary work of chefs Emilly Beggs (Santa Cruz's Kin and Kitchen) and Yulanda Santos (Aubergine located in Carmel) along with Anna Bartolini (Carmel restaurant La Balena) and Leonardo Ramirez (The Charapa Project). The speaker for the evening will be Charles Duhigg the Pulitzer Prize-winning reporter. The event will be held at Natural Bridges Farm on Shaffer Road from 3 to 6 p.m. Tickets are $195.
October 29
Apple Pressing with Santa Cruz Cider Co.
This is an Inside Santa Cruz Event through Lookout. Learn about the process of making hard cider and the different types of apples used as well as the types of juice different apples produce. Enjoy a bit of education about the history of apples in Watsonville and try apple pressing for yourself. There will also be cider and juice samples along with fall treats. The event is free for members of Lookout and $15 for non-members. The event is at the Santa Cruz Cider Co. at 65 Hangar Way in Watsonville. The event runs from 11:30 am to 1 pm.
If you want to learn more about living in Santa Cruz please check out our website with community information and available real estate listings. Contact me any time for all of your Santa Cruz real estate needs.