The Neighborhoods of Scotts Valley California
Posted by Gregg Camp on Friday, September 15, 2023 at 9:04:07 PM
By Gregg Camp / September 15, 2023
Comment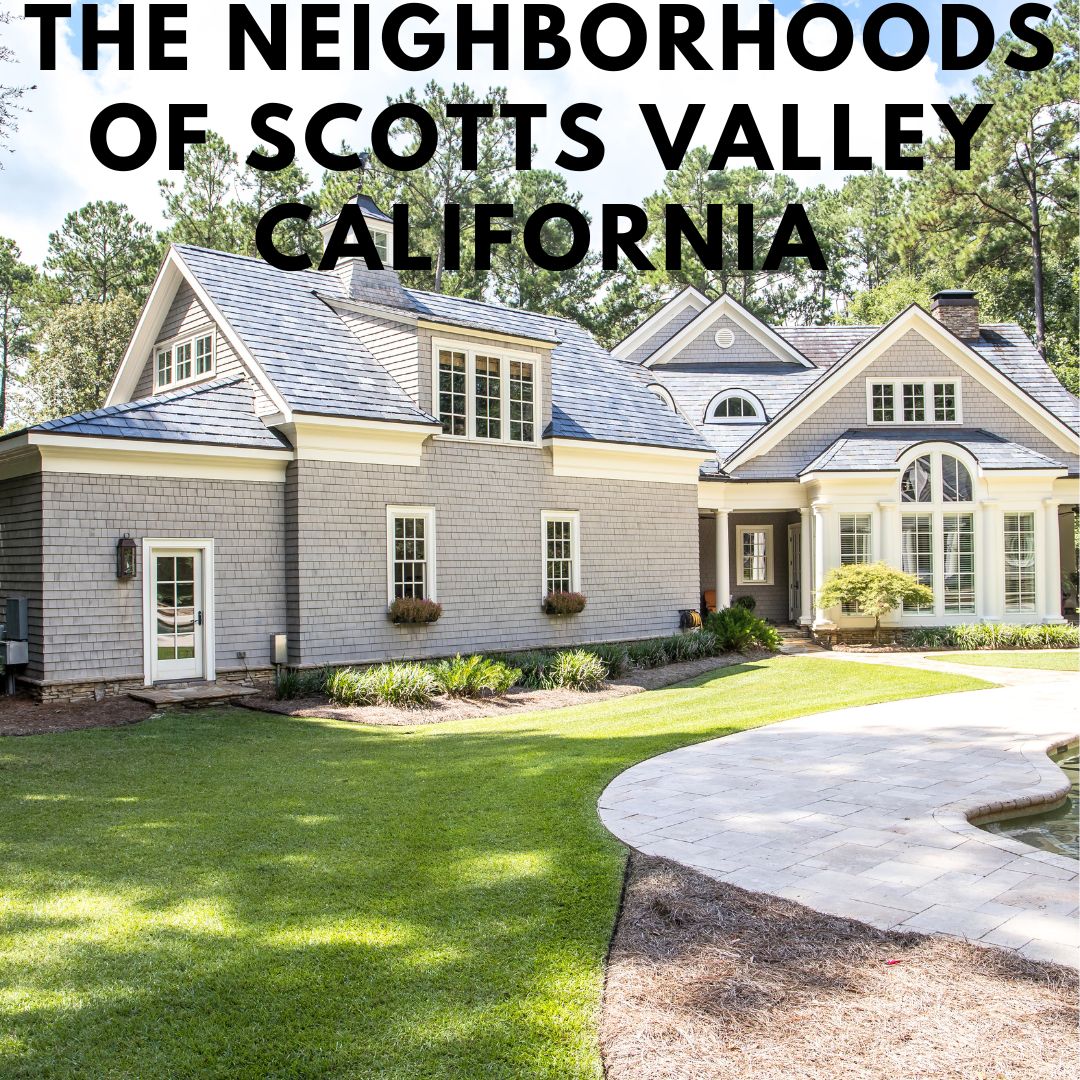 Scotts Valley is a town inland in north Santa Cruz County that is a popular destination. It may not be right on the coastline but it offers its own desirable atmosphere of rolling hills and redwoods. It is a great location for those commuting into Silicon Valley and is also peaceful and relaxed making it a desirable spot for young families to settle. Scotts Valley is often a highly desirable location on many Santa Cruz County homebuyer's wish lists. If you are interested in Scotts Valley here is some information about some of the most popular neighborhoods of Scotts Valley
Glenwood Estates
Glenwood Estates is a smaller residential neighborhood with just a handful of properties best known for their large size and ample backyards. This is a very desirable neighborhood for families in the Scotts Valley area with very quiet streets and many other families to get to know. It is also close to the schools of Scotts Valley especially Scotts Valley High School which is just one block from the neighborhood.
Glenwood Estates is also a very quiet and peaceful setting as it is a neighbor of the Glenwood Open Space Preserve. The neighborhood is well-maintained and homes offer an impressive traditional style exterior. It is what you would expect to see from an ideal suburban community.
Granite Creek Estates
Granite Creek Estates is located at the end of Granite Creek Road on the east side of Scotts Valley Dr. This neighborhood is well known for its luxury homes and very quiet atmosphere. Lot sizes start at about half an acre and homes offer impressive exterior architecture including stone cottages and Mediterranean. This is one of the most picturesque neighborhoods of Scotts Valley tucked at the bottom of a hillside with large sprawling properties that are immaculately kept. This is a very quiet and private piece of Scotts Valley for those hoping to find a bit of seclusion in one of California's most desirable locations.
Hidden Glen
Located on a street of the same name Hidden Glen is a small collection of residential properties in Scotts Valley. There are only about 60 properties total within Hidden Glen. This is a great place to find a unique home that is like no other as all of them are custom builds. Homes here offer ample square footage and have some of the most impressive landscaping meticulously kept up by the owners. It is also tucked into a collection of mature trees. Hidden Glen also offers community amenities including a playground, swimming pool, horse stables, and tennis courts.
Pinewood Estates
The Pinewood Estates neighborhood is across the street from Henry Cowell Redwoods State Park Campground. It is like living in your own piece of luxury camping under the shade of the most beautiful trees in the country. This is a large neighborhood in Scotts Valley but it is still peaceful and offers amazing properties with great curb appeal. This is one of Scotts Valley's most family-friendly neighborhoods in almost a storybook-style setting among the most amazing natural background.
Rolling Woods Estates
If you would love to live tucked into the redwood forest but not too far removed from modern amenities the Rolling Woods Estates is a place of homes in the forest not far removed from the center of the town of Scotts Valley. You can find the neighborhood off of Graham Hill Road across from the Redwoods State Park. The neighborhood is home to charming bungalow-style homes tucked into the small hill that makes up the neighborhood. Some homes even offer green energy solutions such as solar panel electricity. It is like an escape into the forest but you were just a few minutes from town and local area schools.
If you are exploring areas of Santa Cruz County to purchase the home you are looking for Scotts Valley is definitely worth your consideration. There are many amazing areas in Santa Cruz County. I am happy to help you find the area that suits you best for your commuting and daily lifestyle needs. Please contact me anytime for information on living in Santa Cruz County including available Santa Cruz County real estate.