The Nine Restaurants on the Santa Cruz Wharf
Posted by Gregg Camp on Wednesday, September 21, 2022 at 2:37 PM
By Gregg Camp / September 21, 2022
Comment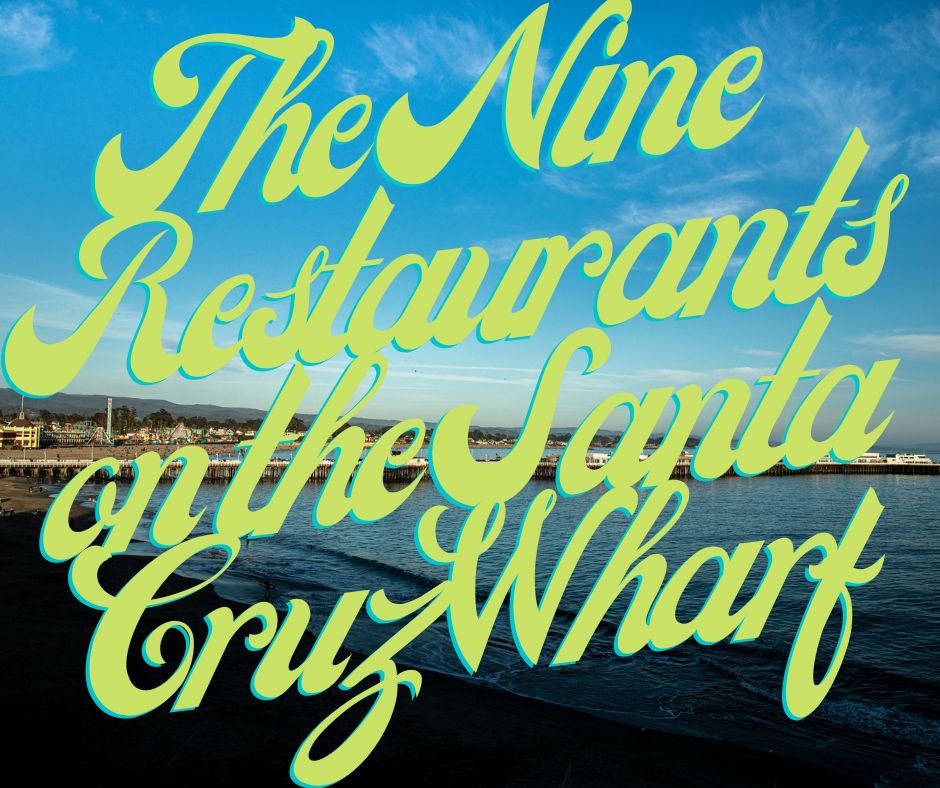 One of the most popular places to hang out in Santa Cruz is the Santa Cruz wharf. The Santa Cruz wharf stretches over half a mile and is known as the longest timber pier in the United States. This is a popular area to take a leisurely stroll while enjoying the sights of the water and other beachgoers. If you stay long enough you may even catch a whale or a dolphin out in the water. It is also prime territory to watch surfers in Santa Cruz.
In addition to hanging out near the water, you can also grab a bite to eat at one of the nine restaurants along the Santa Cruz wharf. Read further to get more information on each of the Santa Cruz wharf restaurants.
Santa Cruz Wharf Restaurants
The Dolphin offers a classic diner atmosphere at the end of the Santa Cruz wharf. This restaurant serves breakfast lunch and dinner just a half mile offshore in the Monterey Bay National Marine Sanctuary. The Dolphin has long been a favorite of Santa Cruz locals and as such has become popular with visitors as well. They have indoor seating as well as outdoor seating on what some call the best patio on the wharf. There's even a walk-up window to easily order without leaving the beach. The Dolphin is open seven days a week 8 AM until they decide to close.
Gilda's has been in Santa Cruz for more than 50 years. They are located centrally in the wharf area just across from the famous boardwalk. Some of the favorite foods include classic fresh fish entrées, plates of pasta, and comfort food favorites that they refer to as Prairie favorites.
The Firefish Grill is temporarily closed due to a fire in the kitchen but will be available again soon. They open every day for lunch and dinner beginning at 11 AM. If you are a seafood lover this is the place to get the best fresh seafood on the wharf. In addition to traditional seafood offerings, they also have steaks, homemade pasta, and more. One of the big draws is the mesquite charcoal broiler in the exhibition kitchen where you can observe amazing meals being cooked right in front of you. It's hard to tell which is better the food or the views overlooking the water.
The word Olitas means little waves in Spanish. This is a great wharf restaurant with unique Mexican dishes. Olitas prides itself on using fresh organic ingredients and the freshest seafood and meats. Some of the favorite entrées at Olitas include Ahi tuna tostada stack, the free-range duck Carnitas, and the Maine lobster quesadillas. Olita's also takes pride in being a green-certified business as well as a clean ocean business. Check out their specials on Tuesdays and Thursdays.
The Stagnaro Brothers restaurant is currently under renovation with plans to open any day now. They are located on the outer edge of the wharf and are well known as a seafood market also offering a restaurant upstairs. This restaurant gives you an upper deck view of the scenery all along the wharf. Enjoy pasta, steak, an extensive children's menu, and of course really fresh seafood.
Riva is short for Riva Fish House. It has been voted Santa Cruz's best restaurant and best seafood restaurant. There is something to enjoy for everyone on the extensive menu. The restaurant opened in 1981 with a focus on being the best fish market on the West Coast. Thanks to a guest asking to have his order of shrimp placed in a cup and then returning and asking for a place to sit down beginning a trend of regulars shopping at the market and sticking around to eat lunch on the provided tables and chairs. Pretty soon the fish market became a restaurant with a nod to a little fishing village on the Ligurian coast of Italy called Riva Trigoso.
This restaurant is on the first floor of the building where Oleta's Mexican restaurant is located. Mikai is a creation of the owners of Riva. This restaurant brings Hawaiian-style eating to the shore of Santa Cruz. It also gives the best view of Steamers Lane to watch the surfers.
This is the place to find authentic Northern Californian culture. This is a restaurant true to what is unique about Santa Cruz and the wharf. The atmosphere is inspired by woodie cars on the wharf and it is a fun and casual place to eat with a budget-friendly price tag. You can find classics like fish and chips as well as chowder bread bowls. Not in the mood for seafood? Try the French dip sandwich.
This is a chance to enjoy a more upscale atmosphere with a fine dining experience. You don't have to be celebrating a special occasion to come here though. Enjoy an amazing view paired with great beverages and amazing food.
There's always something awesome to enjoy in Santa Cruz whether you are lucky enough to live here all year long or stop by to visit. For more information on available Santa Cruz real estate please contact us anytime.
More Great Things About Santa Cruz
12 of the Best Beaches in Santa Cruz
Museum of Natural History in Santa Cruz
What Does $1,000,000 Get You in Santa Cruz?
What is famous about Santa Cruz?