Things to Know When Relocating to Carmel
Posted by Gregg Camp on Wednesday, July 20, 2022 at 4:53 PM
By Gregg Camp / July 20, 2022
Comment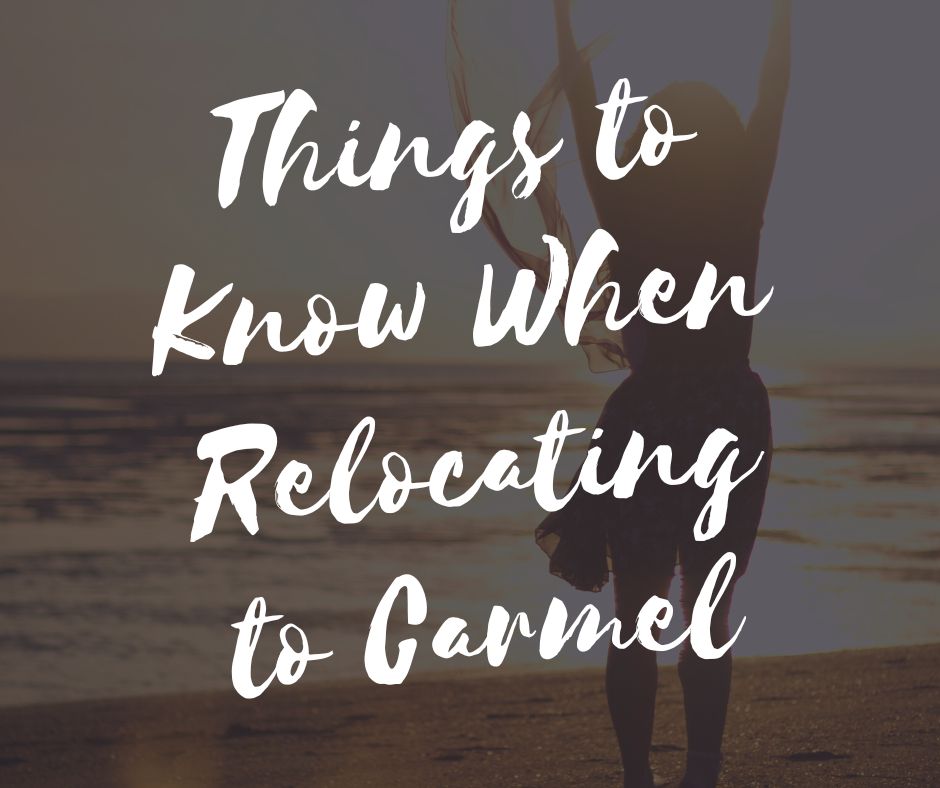 Over the last three years many Americans have been relocating to completely brand new areas for several different reasons. One of the best places to relocate is the city of Carmel in California.
The process of relocating can be uncertain, a lot more work as compared to a shorter distance to move, stressful at times, and maybe a little bit scary. Even moving to one of the most beautiful cities in America like Carmel. If you are considering a move to Carmel here is some helpful information about the area as well as a few tips about moving long distances.
Some information about Carmel California
The weather is great
The state of California is very large in terms of both population and landmass. Because of its size in terms of taking up geographical space, there are many different climates and microclimates all across the state. Not every location in California is going to be the cliché warm and perfectly sunny 24/seven climate.
The nice thing about Carmel is that its temperatures do not hit the extreme highs that many of the locations in southern California are known for. It is a much milder climate here in Carmel. The average high summer temperatures hit somewhere around the mid-70s. And an average low winter temperature is somewhere around the mid-40s. For the majority of the year, the temperature is between the high 50s and the mid-60s. This means that the weather stays fairly consistent in the middle and comfortable range in Carmel.
The atmosphere
Carmel is home to the most beautiful and stunning nature views in the state of California. It is located right on the coast of the Pacific Ocean. One of the biggest draws to relocating to this beachy California town is that it is not a prominent tourist destination as compared to other popular coastal California cities. You can often find long stretches of beach in Carmel that are almost empty to relax and enjoy yourself. If you want to take a scenic drive there are plenty where you can enjoy coastal views such as a drive down Highway One.
There's plenty of wildlife to enjoy including sea otters, dolphins, seals sometimes whales, and more in this less densely populated beach town. In addition to the major draw of the water, there are many amazing hiking trails that wind through the hills and the trees. One of the most prominent places to enjoy the outdoors in Carmel is Point Lobos State Natural Reserve.
Things to do within a short distance
Carmel in itself is a breezy laid-back California town without the crazy high temperatures. When you live here you will find yourself rarely wanting to leave, but when you do there is so much to enjoy in a short driving distance of Carmel.
The city of Santa Cruz is very close to Carmel. It is about one hour north by car and is home to some of Northern California's most popular attractions including the beach boardwalk. The boardwalk at Santa Cruz opened in 1907 and is the state of California's oldest amusement park Santa Cruz is also a perfect place to enjoy warm water for swimming or surfing or enjoy live entertainment at night.
The city of Monterey is also close to Carmel and is a food lovers' paradise with several amazing local restaurants. If you love to golf Monterey has you covered. And the Monterey Aquarium never disappoints even if you visit it several times.
If you are in for a longer day trip the very large and prominent city of San Francisco is a 2-hour drive from the city of Carmel. San Francisco is home to many famous landmarks and activities including the Golden Gate Bridge and many live entertainment venues.
Tips for moving long distances
Relocating is much different than moving across town. There is much more planning and consideration involved. Here are some helpful tips when you are relocating across a long distance.
Research the area thoroughly
When moving to a completely different environment you want to make sure that you know as much as you possibly can about where you are moving before you make the decision to actually move there. There will be several changes in both atmosphere and culture that you will want to learn so that you are prepared and not overwhelmed or surprised. The more you know about a place the less you regret the large changes you go through when moving there.
Employ a local real estate agent to help you out in getting to know the area that you are interested in. Don't be afraid to ask them several questions and ask where you might be able to find more information to answer your questions. Ask about things like the job market, transportation, cost of living, nearby medical care, how the local government operates, the school systems, etc.
Formulate a detailed to-do list
When moving long distances you want to make sure you are as organized as possible. You don't want to leave anything behind or forget about details as it is less easy to fix them when you are in the middle of a long-distance move. Creating a moving calendar with specific items to do during a realistic timeframe will help things to be less stressful and also help you to forget fewer items. To help you get things done you can create lists for the other members of your moving party to help you cross items off your list.
Hire a moving company with experience in long-distance moves
There are many moving companies out there but you want to make sure that you are hiring one that has helped many other people move long distances in the past. There is a different aspect to keeping everything secure and accounted for with a long-distance move as compared to one across town. You want to make sure that the company you hire has plenty of experience and can clearly communicate the process of moving you a long distance.
If you would like more information about living in Carmel including the culture, different neighborhoods across the town, or available homes for sale in Carmel please contact us anytime.