Top 5 Neighborhoods in Carmel in 2021
Posted by Gregg Camp on Thursday, February 4, 2021 at 11:27 AM
By Gregg Camp / February 4, 2021
Comment
Carmel or Carmel-by-the-Sea is basically the same place. This city in Monterey California was founded in 1902 and incorporated in 1916 situated on the Monterey Peninsula. This 1 mi.² village is as unique in charm as it is fun and entertaining residents. One fun fact is that unwilling to see their village become too engulfed in the city culture, Carmel's founding fathers rejected the practice of house to house mail delivery in favor of a central post office. And to this day, there are still no addresses, parking meters, street lights, or sidewalks outside of Carmel's downtown commercial area. You're likely to hear neighbors call out directions such as it's the second house on the right past the driftwood fence and so forth.
Often referred to as simply Carmel, there are still a few neighborhoods that are becoming quite popular or have fluctuated with the ebb and flow of today's society. If you're considering a move to Carmel, here are some of the top five neighborhoods for 2021.
Located just south of downtown, technically outside of the city limits, this beautiful small peninsula offers unobstructed views of Carmel Bay, the Peninsula up along the Pebble Beach and south to Point Lobos and Pine Ridge. This community features the Carmel River elementary school, a few bed and breakfasts, inns and Mara Beach Carmel. You won't find any fussy homeowner association dues or major restrictions but all these homes are already built out so if you're looking to customize a property on Carmel Point, you'll probably have to find an older home that needs a major renovation. Properties on Carmel point offer stunning views, especially those along scenic road to the border of the ocean. These properties start at about $2.2 million up to around $15 million.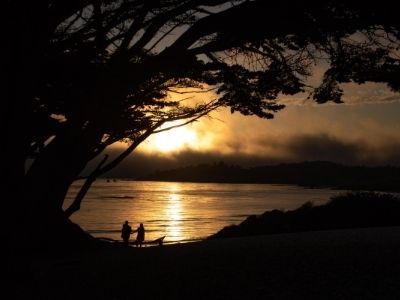 While not necessarily in Carmel, this residential community offers majestic views of the ocean just south of downtown Carmel. It's home to the Highlands In, a historic resort that offers beautiful views, fantastic dinners, and overnight accommodations. Most of these homes are nestled up into the hillside, which offers stunning views of the water along the Cabrillo Highway or Highway 101. Those closest to the water may have more unobstructed views but you're likely to find properties between 2.2 million and $15 million. There are also several private estates on the west side of the highway winding down to the rocky shoreline.
This small community in downtown Carmel sits just off of Highway 1 across the street from a variety of shops, restaurants, services, and the Barnyard Shopping Village. It's popular due to its location and affordable homes. Affordable being relative, as these homes start at about $850,000. This is a small selection of about 120 homesites just south of Rio Road between the Carmel River, Larson field, and Highway 1. These primarily single-family homes offer moderately sized properties, lots, and two or three-bedroom layouts in sizes from 1500 ft.² to 2200 ft.². All of these homes are located in the Carmel Unified School Districts within walking distance to the Crossroads, the beach, or downtown Carmel.
Right across Rio Road from Mission Field is the larger community and neighborhood of Hatton Fields. These homes started about $650,000 and again are extremely close to the Crossroads and the Barnyard Shopping Village. This community also borders the Doolittle Trailhead and Sierra Trail, separating the neighborhood from Juniper Street and downtown Carmel. Residents are just a couple of minutes to the beach, downtown, Carmel River, shopping, dining, and of course, still within the great school district.
For golf enthusiasts, it doesn't get much better than Pebble Beach. Nestled just north of Carmel in Carmel Bay, with beautiful luxurious homes on the water, the rip-roaring sea, and fabulous golfing bordering the ocean, it doesn't get more luxurious than Pebble Beach homes. Here you will find some of the highest-priced homes in the area starting at about $3.5 million. Luxury estates, those on the water, or with golf course access can range anywhere from $15 million-$30 million. Luxury properties of over 8000 ft.², larger lots of over an acre, and beautiful water access or water view homes abound in the Pebble Beach California area. Homes look out to Pescadero Point, Arrowhead Point and the Pescadero Rocks with gorgeous sunsets, and the phenomenal Pacific Ocean write out your back door. For the ultimate in luxury, Oceanside property, and for the golf enthusiast, you can't go wrong with a home in Pebble Beach.
It's easy to see why people love living in Carmel. There is a variety of homes, styles, pricing, views and amenities. From minimal homeowner association dues to no HOA dues, luxurious waterfront property to single-family homes and quaint neighborhoods, Carmel offers the best of all worlds. For more information browse active listings below or simply contact our office at any time to schedule a showing.
Image by Miguel Hermoso Cuesta, CC BY-SA 4.0 <https://creativecommons.org/licenses/by-sa/4.0>, via Wikimedia Commons & vtsr