What Kind of Home Can You Find for $2M in Santa Cruz and Aptos?
Posted by Gregg Camp on Friday, September 22, 2023 at 2:42:26 PM
By Gregg Camp / September 22, 2023
Comment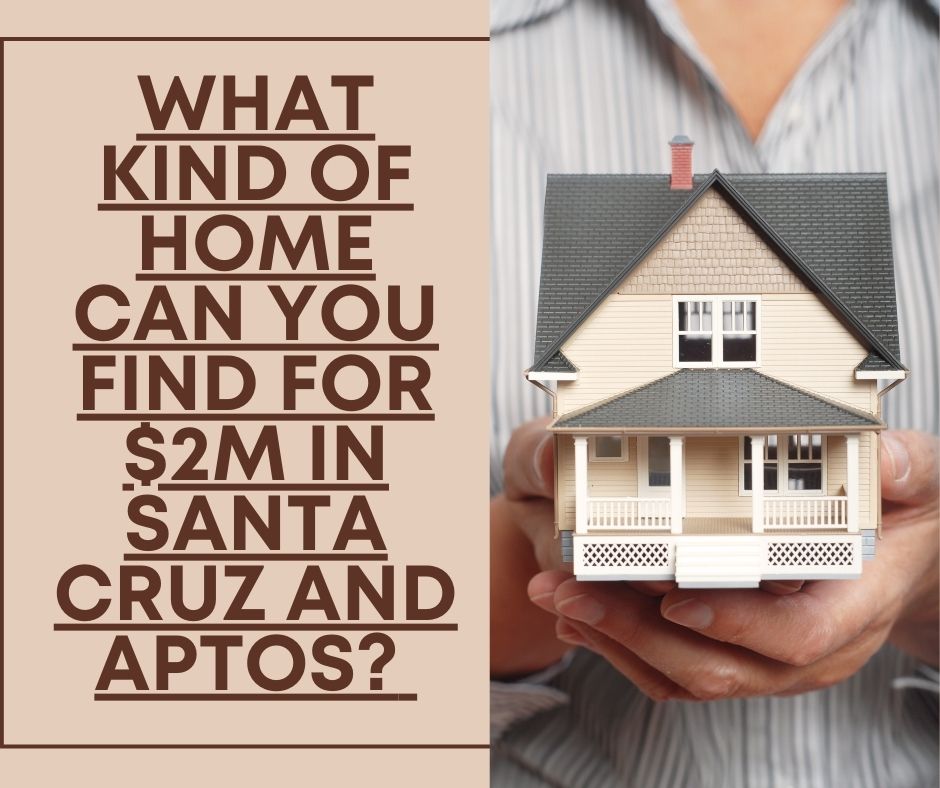 If you are looking for a home in Santa Cruz County you could not have picked a better area of California to settle into! Okay maybe I am biased because I live in the area, but there are truly just so many reasons to love the Santa Cruz area. Trying to narrow down where you will purchase a home could be difficult because the county is full of amazing coastal towns and hidden forest oases.
Some potential Santa Cruz buyers might wonder what type of home they could get for a certain budget in different areas of the county. This is a great question that could help you decide what location you want to look for a home. I can certainly help you out with this question in many different towns in both Santa Cruz and Monterey County. Let's start with what $2M could buy you in the actual city of Santa Cruz vs. the town of Aptos.
Why are We Comparing Santa Cruz and Aptos?
When deciding to move to Santa Cruz County a majority of potential buyers are interested in purchasing a home in or just outside of the city of Santa Cruz. The town of Aptos is often considered to be the first alternative location when opening up a broader home search in the county. Let's Look at a $2M budget for both.
Buying in Aptos
Aptos is located east of Santa Cruz and is home to many of the most popular housing communities like Seascape and Seacliff, two of the most popular. Aptos is smaller than Santa Cruz but still worth a look when considering Santa Cruz homes. Living in the hills of Aptos gives you a quiet natural atmosphere with some of the most stunning views of Monterey Bay.
If you are someone who likes your home to be in a quiet and peaceful location Aptos gives you this suburban lifestyle and is just 12 to 15 minutes from Santa Cruz where many of the popular destinations in the county are located. A budget of $2M will go a bit further in the size and quality of the home as compared to Santa Cruz.
There are many great places to find a home for this budget in Aptos. This includes Seacliff and Rio Del Mar for anyone who wants to stick near the water. If you are looking for a high-end low maintenance condo you can find some very stunning condo properties in Aptos for this price point or even lower.
Buying in Santa Cruz
Santa Cruz is the most desirable of areas to live in Santa Cruz County and for good reason. Santa Cruz is right on the water, offers one of the best surfer communities, has the iconic boardwalk, is home to UC Santa Cruz, the best restaurants on the wharf, a charming downtown with local businesses and an artsy vibe and so much more.
The real estate in Santa Cruz is very desirable and sells quickly for good reason. Living in Santa Cruz is very much like living in a dream California beach town. Because the location is so desirable with many fun things to do in close proximity property values come at a higher price point. A $2M home-buying budget may leave a homebuyer with a more competitive home search as compared to looking in Aptos. You can still find a great property in Santa Cruz at this price however with the right local agent on your side. And if you are looking for a condo property you can find some of the most conveniently walkable locations to purchase a home.
Both locations are great places to search for a home in Santa Cruz County, both have their own limits and assets. If you would like help finding the best property for you in Santa Cruz County within your personal buying budget contact me. I am highly knowledgeable in Santa Cruz County real estate and can help you find a home that you truly love at a price that is comfortable for you.