When Your Senior Loved One Needs You: Is It Time to Move?
Posted by Gregg Camp on Thursday, February 2, 2023 at 2:32:21 PM
By Gregg Camp / February 2, 2023
Comment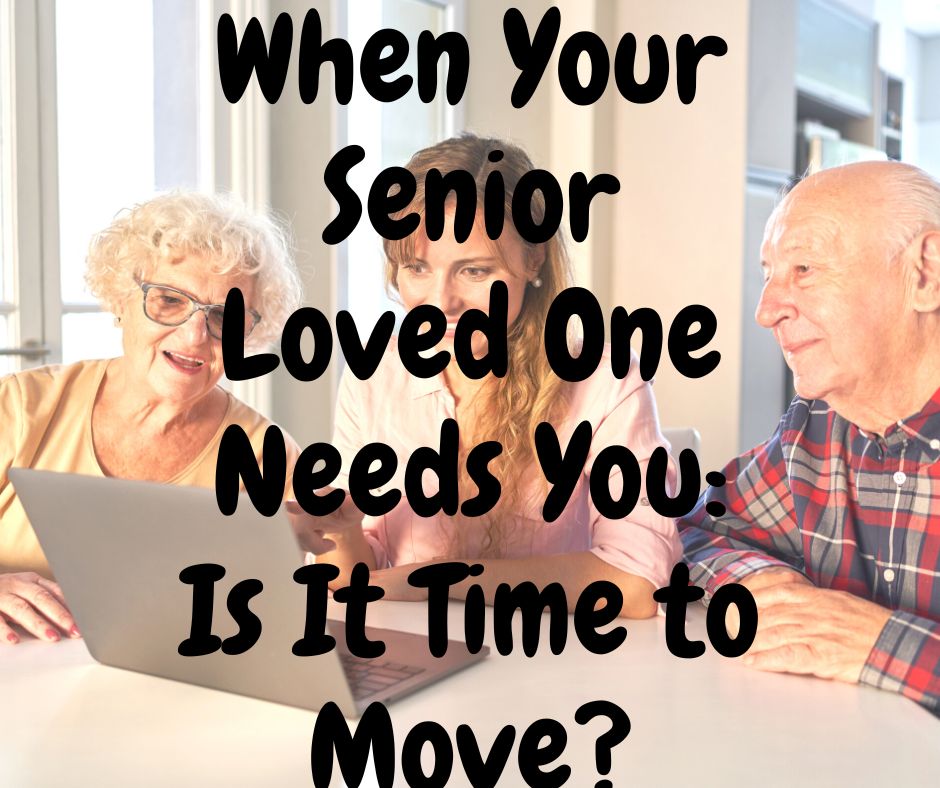 If you have an aging loved one who needs more help at home, it may be time to consider whether moving is a viable option for you and your family. Determining what your next move is can feel stressful and overwhelming, but with the following tips, you can see it through to the end to help your family.
Assess Your Loved One's Needs
Consider the person's abilities when thinking about your loved one and their needs. For instance, how much family support do they have in the area? How well can they take care of hygiene and healthcare?
According to the experts, some older adults can continue to age in place. To continue to live at home, determine your loved one's situation and whether living at home makes sense. How well can your loved one get around the home? Sometimes, you may have to help make the home more accessible. For instance, a two-story house may be difficult for someone with mobility issues to navigate. You can also investigate some home products that can make their lives easier. Always read expert reviews before purchasing anything.
If your loved one is intent on staying in their home, a certified professional can inspect the home and determine what renovations may help your loved one function more productively in their environment. Alternatively, you can work together to find a more accessible place for your loved one to live. There are many senior-friendly apartments available in Frisco, and you can view online listings and filter by price and amenities when looking for a place.
Plan Your Move Carefull
You may have a situation on your hands where your loved one can live alone just fine but you need to be closer in proximity. If that's the case, you will no doubt have your work cut out for you. A mindful approach and lots of lists will be your saving grace.
When it comes to finding a new home near your loved one, seek mortgage approval early so you know how much you can borrow in advance. Most lenders offer preapproval. Once you start house hunting, you can quickly stick to your budget and find a home you love. Start your Santa Cruz home search by working with an experienced REaltor like myself.
In addition to preparing to purchase a new home, start your packing as early as possible. Create a timeline for yourself and stick to it. You should have a checklist of everything you need to move to the new place. Once you have moving supplies, put them all in one place and take stock of it. Make sure you have plenty of boxes and packing tape. Try to organize your boxes by room to make unpacking a breeze.
Enlist Help When Necessary
If you need help balancing your family, your loved one, your business and the move, consider asking for help. Movers can speed up the process and make it so you have one less major task. They can help in all aspects of the move, from packing and unpacking to loading up the moving truck.
Depending on what sort of help your loved one needs, it may be worthwhile to hire someone to assist them in downsizing their belongings if you're unavailable. You may also want to limit overwhelm by hiring out repair services if you need to get your loved one's home ready to sell.
Although the decision to move closer to an aging loved one can be difficult, it may provide significant benefits for both parties. There are many things to consider when making this decision including finding them a new home, but by weighing all of the pros and cons, you can make the best choice for everyone involved.
Did you know Greg specializes in senior real estate services in Santa Cruz? No matter your Santa Cruz real estate needs we are here to help you with your best interest at heart.