Zip Code Market Report for 95060 October 2021
Posted by Gregg Camp on Wednesday, December 1, 2021 at 8:10 AM
By Gregg Camp / December 1, 2021
Comment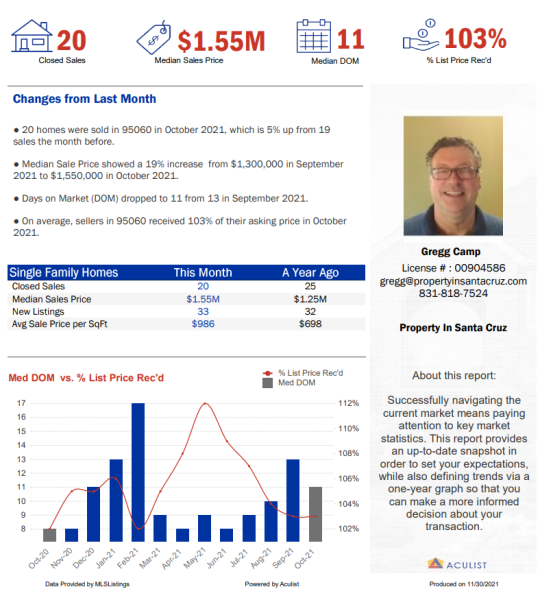 Here's what's happening in the Santa Cruz real estate market for ZIP Code 95060.
For Santa Cruz, there were 20 closed sales in October 2021. The median sales price was $1.55 million with an average days on the market of just 11. Santa Cruz is definitely the faster-selling community over neighboring Carmel which only had a percentage of list price received at 98% whereas Santa Cruz had a percentage of list price received 103%. Homes are still flying off the market in this community. The 20 homes that were sold in October is up 5% from the 19 sales the month before. Median sales price also showed a 19% increase from just 1.3 million in September to 1.55 million in October. The average days of the market dropped to 11 from 13 in September and the average seller received 103% of their asking price in October versus the month before.
It's important to successfully navigate the current market, which means paying attention to key market statistics. This report shows an up-to-date snapshot in order to set your expectations while also defining trends by a one-year craft so that you can make more informed decisions about your transaction.
If you're looking to buy or sell a home in the Santa Cruz real estate market, feel free to contact me below. As an avid and consistent full-time real estate professional in the Santa Cruz area, knowing the market is key to know when to sell, not to overpay for a home, and how to price accordingly.