Seabright area- East Santa Cruz
A brief history of the Seabright Beach area neighborhood of Santa Cruz
Seabright is a friendly seaside neighborhood located in East Santa Cruz. It roughly is outlined along the water to the Santa Cruz Yacht Harbor back up Frederick Street, back to about Soquel Avenue and down Oceanview Avenue toward the water. See the Seabright map for more detail. Seabright has a nice ocean air influenced climate. Rarely too hot or cold, it has the nice Mediterranean climate that Santa Cruz County is famous for. It is a great place to live in a very walkable area close to the water and yacht harbor.
Today Seabright is a vibrant community that borders on the Santa Cruz yacht harbor on one side, has a great beach, Seabright Beach, a nice little brewery and collection of eateries. All these are within easy walk of the water and many of the neighborhoods. At the north end, by Soquel drive is the roller palladium and the Rio Theater and other eateries and small shops. In days past this area by Soquel was called east Santa Cruz.Today the whole area is generally called East Santa Cruz, but there are still neighborhood areas with a nice feel and ocean connection. Seabright is one and nearby is another called Twin lakes.
Seabright was originally started by a man named FM Mott on 12 acres he purchased in the early 1880's.He started a little community he named Seabright on land once owned by Mr. Woods. Woods parcel was large and included what was then known as Woods Lagoon, later to become the Santa Cruz Yacht Harbor. Schwan's Lagoon, which still exists today, is located across from Twin Lakes State Beach. This area, a little further south of Seabright, had another little beach community, named Twin Lakes. Woods lagoon and Schwans' Lagoon, were the Twin Lakes.
Mr. Mott named his new town after Seabright, New Jersey, why I am not sure, except it too is an oceanfront beach community. It's history is not much older than Seabright, both share the kinship with the sea. Mr. Mott was an early Santa Cruz real estate developer, except he was developing his town. He set up streets, installed a water system, and sold lots to the beachgoers from Stockton, San Francisco and Oakland.. He was green before there was the term, pumping his water for his community with the aid of a windmill. The neighboring development of Camp Alhambra, by contrast, had to pump theirs by hand.
On the other side of the gully from Seabright there was a development, towards Santa Cruz, named Camp Alhambra. This resort spot was founded by a man named Thomas Pilkington. Today both Pilkington and Alhambra are streets in the same area of Seabright Beach. Pilkington ran his beach cabin business for about 2 years and quit. You might see some old little beach cottages from after his time, The streets are just on the Santa Cruz side of the small creek that runs to Monterey Bay. Pilkington's heirs later gave some of the land for the Seabright Library, which Andrew Carnegie paid for the construction of. That library later was to become the Santa Cruz Natural History Museum.
Seabright was a separate thriving little community back then, as now. It had its own post office, train stop, and library as well. The train came there, and later, Frederick Hihn extended it to Watsonville. Hihn was a man who had great influence, wealth and vision in Santa Cruz County. He had his finger in Seabright as well, but he had a greater influence in another seaside community named Capitola.
Seabright continued to grow, and the needs for more city services became a burden, so the town decided to merge with Santa Cruz, about 1905. Mr. Doan, Woods, Mott, Pilkington, and Forbes all have streets named after them in the area near Seabright Beach between Murray and East Cliff Drive. All were pioneers and moving spirits in the development of the area that would later become part of east Santa Cruz, which at that time was further north toward Soquel Avenue. That area north of Seabright is called the Banana Belt.
In later years of the 30's or 40's there was a house overlooking the beach, across from the Santa Cruz Natural History Museum that looked like a castle.So some old time residents will still call the beach, Castle Beach.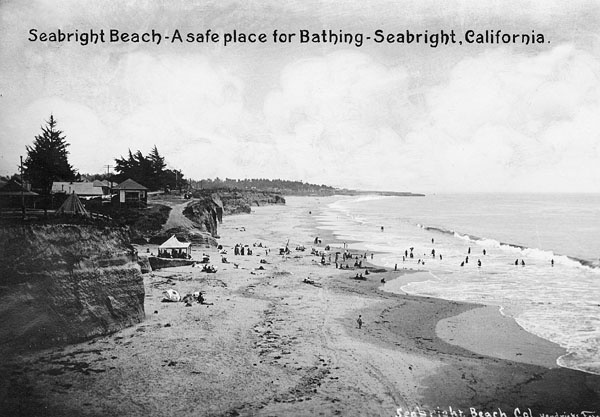 Photo from around 1900.In the distance, is my guess, Black's Point or Pleasure Point